Conclusion:
When I recently became aware of the HD6000 series' imminent release, I was initially expecting a significant change like we saw with the evolution from the HD3000 to the HD4000 to the HD5000 series. While you won't be met with a true gaming performance boost by going from an HD5870 to an HD6870, for example, the new series of cards is definitely interesting.


The
ASUS
EAH6870 1GB Radeon HD6870 graphics card arrived on the test bench as a bit of a mystery, as I was not sure what to expect. After some time testing it against an HD5850 and an HD5870, I have to admit that I am impressed. While it may put up results in benchmarks and games that rival the HD5870, there is much more to consider.
The primary difference is that as of the day this review was released, this HD6870 from ASUS costs far less than the cheapest HD5870 I could find. Using the
Bigbruin.com shopping engine
finds just one listing for this card, and it happens to be out of stock at Amazon.com where the price is $250 (US). Digging around the web finds other stores with the EAH6870 listed, but also out of stock. For the Newegg.com fans out there, they list it at
$240 (US)
, and hopefully it will be back in stock very soon. Compared to Nvidia driven cards, you will find that the price and performance of the HD6870 is comparable to a GTX 470 (if not just a bit better). And from this review we saw that the HD6870 can hang with the HD5870 in terms of performance, while costing a $90 or so less.
Another significant difference comes in terms of energy efficiency. At idle the EAH6870 drew about the same amount of power as either the HD5850 or the HD5870, but when under a load the EAH6870 drew about 55 Watts (or 19%) less power. That is a big difference, which might translate to some savings on your electric bill, but will definitely help keep the card cool and quiet.
While the cooler did let the ASUS HD6870 card get warmer than the other cards tested, it was also the quietest. At idle it was just about silent, and even under the heaviest load the noise was relatively quiet on our open test bench. Installed inside a case you might never hear the fan in its stock configuration. If you were willing to give up a few dB of noise, you could definitely raise the fan speed manually and the temperatures on the GPU would surely drop.
In the end the ASUS EAH6870 1GB Radeon HD6870 graphics card earns the Bigbruin.com "Recommended" and "Good Value" awards for the impressive price to performance ratio it offers.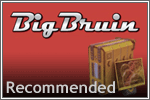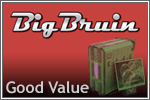 Pros:
» Solid performance for a card in this price range
» Cooling fan never got loud during testing
» Overclocked with minimal effort
» Great combo of connections for most basic uses and for an Eyefinity setup
» Energy efficient
» Competitively priced
» Matches up well with comparable Nvidia cards
» About $100 less than an HD5870
» About $25 less than an HD5850
Cons:
» Ran warmer than an HD5870 and an HD5850 during testing
» Tiny factory overclock on the GPU seems more like a gimmick, but extra speed is never a bad thing
» Not ASUS's fault, but new naming structure is confusing
Please drop by the Bigbruin.com Forum and feel free to post any
comments or questions
.