Testing:
You may have noticed that throughout this review we have included the term "5.1" in quotes. The reason for this is because the Cine5 is not a true 5.1 surround speaker system. The Cine5 is actually only 5 speakers - including left, right, center, and surround functions - and does not include a sub-woofer. It does however use the same standard cabling as my current Logitech x-530 speakers that we'll be comparing it to. In addition, the 28 watt power draw is right on par with the x-530s and other similar 5.1 speaker sets.
For all of our practical testing, we will be using both speaker sets with the
ASUS XONAR D2X
sound card, shown in the two images below. This is in order to provide a consistent and level playing field.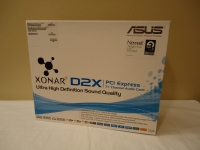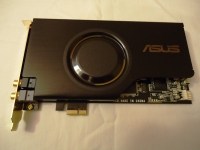 The first thing we did after getting our ASUS XONAR D2X 7.1 channel PCI express sound card installed and all of the drivers loaded was to hook up the cables. The D2X uses multi-colored LEDs inside the 1/8" jacks in order to make attaching the correct cable to that correct port a piece of cake. Once the power adapter was plugged in, we pushed the dial on top of the Cine5 to turn on the unit. The blue LED ring let us know it was ready to go.
Our first test was to check the surround sound quality in gaming. For our testing we picked our favorite time-waster - Fallout 3. The first thing you notice is the lack of a deep, thumping bass sound - not surprising as there is no dedicated bass speaker. Initially, weapons such as shotguns have more of a tinny sound to them as opposed to a deeper thump, but after several hours of game play, you almost forget about the lack of true bass. I did notice that with the Logitech speakers that the surround sound immersed me a bit more in the action. While you can differentiate between "front" sounds and "rear" sounds with the Cine5, it's not as distinct as it is with a true 5.1 system.


Next, we hooked up our iPod to both the Cine5 and our Logitech x-530s using the green cable as per ASUS' instructions. We chose a mix of different types of music to get a good range of sounds. With our traditional x-530s, you only get stereo sound. When we plug in the Cine5, you actually experience what ASUS refers to as "up-mixing". I would equate this more to what you would experience in your car audio system where certain channels showcase certain instruments. While the bass was still lacking, the tone was much richer. In my opinion, the sound quality is comparable to both the Apple Hi-Fi and a lower end Bose system.
We then moved on to the Home Theater PC portion of our testing by playing a few movie files to get an idea of how the Cine5 would work as a compact, dorm-like home theater speaker. Again, the biggest standout was the lack of a thundering bass for things like explosions. However, the dialogue was easier to hear and most everything else, including soundtracks, were much better.
Finally, we removed our D2X sound card and just plugged the Cine5 into the on-board sound ports on our EVGA x58 SLI micro motherboard to see what we'd get if we didn't have a "high-end" audio card improving things. To be honest, we were quite surprised. While the D2X does seem to make everything you plug into it that much better, by itself, the Cine5 is a really nice sounding speaker - for what it is.