The Basics:
Once out of the box, we can see how beautiful and simple the speaker unit actually is.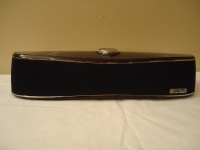 The primary material on speaker enclosure is a gloss black plastic which looks good when it is clean, but it does collect finger prints and dust rather well. The whole unit measures just under fifteen inches wide and just under four inches tall (with the taller of the two sets of legs installed), so it should fit nicely under most widescreen LCD monitors.


In the image below we see a side shot of the unit and one of two bass reflex style ports. On top of the device is an all-in-one dial that handles volume control as well as on, off and mute - muting the unit essentially turns it off. With the unit on, the ring on the outside of the dial has a light blue glow and when muted it goes off. The dial itself has a nice resistance and features a kind of step-click feel so you can gauge how much you're turning the volume up or down.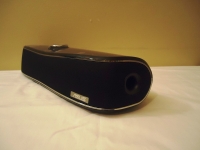 The final image in this section shows us the back of the speakers with the multitude of connections. From left to right we have a headphone jack (which negates the need for fiddling around your PC if you want to plug in your headset), front, side, and center/sub jacks for the "5.1 surround cable", and the connector for the AC power adapter.