In my two most recently published reviews (
one
|
two
) I took a look at some very nice, very well executed Z-Wave connected remote controllers. Both the Fibaro KeyFob and NodOn Soft Remote received high marks in their reviews for being powerful little devices that enabled you to take your home automation infrastructure to another level of convenience. An issue I had with both units is that they sell for about $50 (US), which seems like quite a bit for a remote control.


While the two devices are well made and continue to perform well for me on a daily basis, I wanted to see what a more budget friendly Z-Wave remote controller might be like. I found a listing for a pair of
Aeotec
DSA03202-V1 Z-Wave Minimotes for $29.95, and decided to see how they worked. $15 versus $50 is a big difference, and I was prepared for the worst when I placed my orders. I have read plenty of negative remarks on deal forums and elsewhere about these sorts of things being sold as outdated old stock, repackaged from other proprietary systems, having hit or miss performance with the batteries, including poor documentation, and sometimes just obviously being used. I pulled the trigger anyway, and before taking a look at the units I received, let's take a look at the features and specifications pulled from the specific eBay listing...
Features and Specifications:
» Low-cost Z-Wave remote controller
» Highly intuitive and easy to use UI
» Small form factor and aesthetic design - 0.8cm x 3.3cm x 9.3cm (main body
» Full range of Z-Wave controller functionality - SUC/SIS Inclusion Controller
» Firmware updatable in field by end-consumer
» Latest Z-Wave protocol and commands
» Can hold up to 8 scenes.
» Gateway configurable
» Internal lithium battery rechargeable via USB
» Available in Black or White colors
» Optimized antenna range - 300ft Z-Wave RF range (outdoor)
» Certified/Available for USA, EU and Australian markets (FCC, CE, C-TICK, ROHS)
Packaging and Accessories:
Each remote arrived in a very plain white box that looks like it may have been opened and resealed, so I was concerned about what I would find inside. There are a handful of stickers on the box that provide some information about the units, and what I was most pleased to see is the V 1.19 tag. Much of the feedback I had read is that these will most likely have older firmware installed, but that you can update them via a PC application that you run while the remote control is connected via USB. Seeing that these should already be at the latest firmware (which is V 1.19), I was enthused that I had already done better than some, but I will definitely check them once connected to verify that the sticker is telling the truth.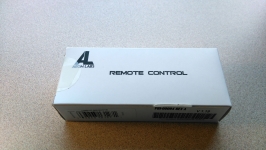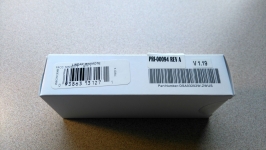 Inside the box you will find the remote controller wrapped in a plastic bag and nestled in to a foam frame. There is also a user's manual placed in the box in front of the remote controller, and the documentation seems pretty thorough and not like it was pulled from another system that had overstock on these units. The below right image shows all of the hardware that you receive... A short USB cable for charging (or updating firmware via your Windows PC) and the Aeotec DSA03202-V1.