These days a good deal of our lives are tied up with the use of apps on our phones and other portable devices. While I enjoy plenty of apps that are intended to help me pass the time, my favorite apps are the ones that help me make the most of what little time I seem to have. The app we're going to look at in this article will not only help you save time, but will help you save paper and printer toner, too.


ACTPrinter from
Houdah
is the app in question, and more specifically we will be looking at version 4.5 for Apple devices which was released on August 08, 2013. More information can be found on the app on the
publisher's site
, as well as on
iTunes
and
Google Play
. In short, ACTPrinter is a virtual printer that will let you 'print' any document on your Windows or Mac computer and send it as a PDF to another Windows or Mac computer, Apple Device (iPhone, iPad, iPod), or Android device that is also running ACTPrinter.
The two main steps required in order to use Houdah's ACTPrinter is to have the app installed on your device, and to have the companion software installed on your Windows / Mac computer. The app regularly sells for $3.99 on iTunes, and the companion software is available as a free download from the pubisher's site. There is also an
ACTPrinter Lite
, available for $1.99, which omits the web printer, clip board printer, and scanner features found in the full version. We will look at the full version of ACTPrinter with a Windows 7 system, and the two screenshots below show the program after the straightforward install process.
Clicking the image below to enlarge it will reveal the main interface, where a the 3 step instructions to using the app are provided right in the middle of the screen. At the top of the screen you see your list of documents that you can prepare manually to be printed, and at the bottom of the screen you see the list of devices ready to receive ACTPrinter printed documents. In addition to sending documents to your device in this manner, a printer will also be added to the list found in all of your applications, so you can print to the ACTPrinter from your word processing application, email client, web browser, etc.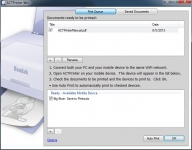 Enlarging the next image shows the same screen, but now with an additional context menu expanded. This list of options lets you customize the use of the program, and can also be found by clicking on an icon that is installed in the notification area of the Windows task bar.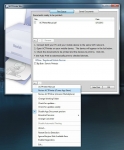 Moving on to the next page we will take a look at a few shots of the app in use.