Sumo Lounge was founded in 2004, so they have been around for quite some time and they know a thing or two about bean bag chairs. They offer everything from small personal bean bags to large multi person bags in multiple colors and different fabric options. Today we are taking a look at the
Sumo Switch
, and this particular bean bag chair is wrapped in their pitch black cover. The Switch differs from your traditional bean bag chair, and the three Sumo Lounge products we have reviewed previously (the
Omni
, the
Sultan
, and the
Sway
) in that it has a more 'chair-like' structure to it.


Features and Specifications:
The Sumo Switch is two seating surfaces in one. Folded up you have an elevated seating position which is very similar to a standard chair seating height with a reclined back. Flipping out the bottom cushion you have a lounger. Inside it is stuffed with a mix of standard fiber fill and Styrofoam beads. The fill gives it a familiar feel in the seating surfaces, but the beads are used in the back for extra support. The cover is a black microfiber that has zippers which allows you to re-stuff the chair should you need to do that or to clean the cover. The chair itself weighs about 30 pounds and is approximately 24" wide by 38" deep, with a seating surface that is 22" high and the back is 35" high. In lounge mode the seating surface is approximately 12" high, it is 69" long, and the back is about 26" high.
Packaging:
My Sumo Switch came in a bulging plain brown box that measured approximately 25" x 25" by 36" high. It was held together by excessive amounts of tape, but it did the job to get it to me without getting destroyed. The shear amount of tape used made me nervous opening the box as I was afraid a blade could potentially cut the fabric too. Luckily with a little patience I was able to cut the tape safely.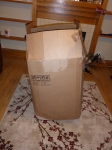 Once the flaps were loose I could see the chair was inside a plastic bag. Unlike some of their other products, this did not appear to be a vacuum packed item. I think it would have been a good idea to vacuum pack these just to minimize the shipping size and cost. But since this wasn't a vacuum sealed bag it was very easy to remove without concern about damaging the chair.