Conclusion:
I was really surprised with how much I liked this device. It brought me back to my childhood of running around with walkie talkies, but this time I could actually understand what was being said.
Republic Wireless
came up with the Relays as a way for parents and kids to stay connected without giving them yet another screen to be distracted by, and it works brilliantly.


Overall the device functions well, has good Wi-Fi and cell coverage, and is fun to use. Even when my son has the TickTalk 3 on his wrist, he still grabs a Relay when he heads out to walk the dog. It is just so much easier to use. While it does have some limitations, the all-day plus battery life make it a great option for kids. Initially the service was a little cheaper per month but with a recent drop in the device cost (
$99 to $49
) they increased the monthly fee to $9.99, but you can deactivate and activate whenever you want. So the buy in cost is about 1/3 the TickTalk 3, monthly service is the same cost, and this will last all day every day. With all that said, I do think this will be best for younger kids. In my son's second grade class there are already some kids with iPhone X's. So I think you'd be hard pressed to get an older kid to carry this; regardless of how much fun or how well it works, due to the pressure to keep up and not be "different." A lot of this will depend on your kid and the environment they are in but I would imagine this is good at least to 2nd grade, but doubtful past 4th. But compared to the
TickTalk 3
and the
Verizon GizmoWatch
; this unit is by far the easiest to use and it the most friendly for activities. The button is easy to depress even with winter gloves on and the concept is easy for even really young kids to work. This would be my pick for active families and or younger kids.
In the end, the Republic Wireless Relay Screen Free Kid's Phone earns the Bigbruin.com "Great Idea" and "Highly Recommended" awards.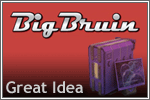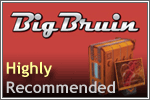 Pros:
» Cell and Wi-Fi coverage is good
» A lot of fun to use
» Sound quality is quite good
» Tracking is capable of updating while in motion
» Battery lasts all day, possibly two
» Water resistant design
Cons:
» Public Wi-Fi can be a problem
» Some features can wear on parents' patience
» Would be nice to offer discounts for service on multiple Relays
Please drop by the Bigbruin.com Forum and feel free to post any
comments or questions
.