At a recent trade show I came across
Puro Sound Labs
, and while I knew about hearing loss from listening to music at high volumes I was not aware of how much of an issue this is. They are currently estimating 1 in 5 teens will be losing their hearing, and unfortunately the founders' child has already had perceptible loss of hearing. So what can you do about it? Well they set out to make quality headphones that limit the max volume to 85dB to minimize the risk to your child's hearing. Having a son that is often using a headset listening to music, playing YouTube videos and video games, I immediately was interested. So the folks over at Puro sent over their PuroGamer headset for us to take a look at. For more information about Puro Sound Labs and their mission statement go
here
.


Well first and foremost the Puro Sound Labs PuroGamer is a volume limiting headset. They are designed to enhance the sound at every volume up to 85dB using their Puro Balanced Response. Each ear cup is well padded and covered in a vegan leather to enhance breathability and block out up to 75% of ambient noise. In each cup you will find a 50mm graphene driver to accurately recreate your soundstage or gaming environment. They also include an omni directional microphone which you can remove when not in use. The cable has an integrated volume control and microphone switch. They include a USB and 3.5mm jack so this can go from controller, to tablet, to PC. Below is a small list of features/specifications, but for more information check out their
site
.
Features and Specifications:
» Type of headphone: Over-ear headphones
» Premium Stereo Sound
» Support virtual surround sound
» Puro Balanced Response
» 75% Ambient Noise Isolation
» Omnidirectional, Noise Cancelling Detachable Mic
» Volume Limited to 85 dB
» 13.2 oz.
» One size fits all
» Plugs: USB & 3.5mm
» Frequency response: 20Hz - 18KHz
» Speaker diameter: 40mm
» Speaker impedance: 32ohms
» Speaker sensitivity: -35dB 33dB
» Cable length: 140cm, USB split cable length 20cm, 3.5mm plug split cable length 20cm
Packaging and Accessories:
The PuroGamer headset I received came in full retail packaging. The packaging is a mostly white cardboard box with a full color image of the headset and microphone on the front. The front mentions the sound limiting aspect, but there is more info about this on the back, as well as their proprietary Puro Balanced Response, ambient noise isolation, and omni directional mic.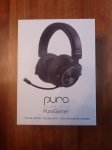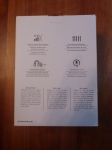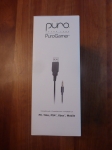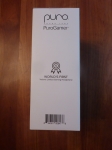 The sides of the package show the provided interconnects and confirms it is designed to be used with PC, Mac, PS4, Xbox, and mobile. The other side says that these are the first ever volume limiting gamer headphones.
Opening the flap top on the box you'll find a plastic clamshell housing with the headset securely in place. In the bottom section of the clamshell you will find the integrated cord and control box, microphone, quick start guide, and storage bag.