Packaging and Accessories:
The Ooma Butterfleye comes in a very sturdy box and the first thing I noted was the heft of this package.


As you read previously, this camera comes with a 10,400mAh battery inside so the camera alone weighs 12.5oz. The front of the box proclaims this to be the world's smartest camera, has a front view of the unit and indicates it is capable of full HD. The back lists the contents and mentions other capabilities like activity based recording, true wireless design, and mentions that its motion sensor can discern between animals and people.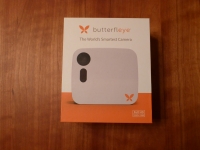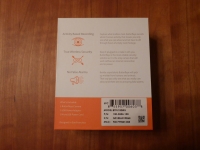 Flipping the lid of the box reveals the camera neatly stowed in the bottom section, just behind it there is a small box that houses the other accessories, which includes the power adapter and a fairly long USB cable. In the lid you will find a quick start guide to get you going.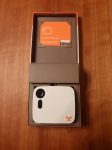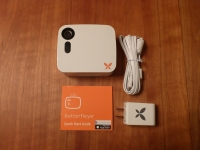 The Basics:
This version of the
Ooma
Butterfleye has a white housing indicating that it has 16GB of internal memory, the black units come with 32GB. The form factor for this camera is quite unusual. To house the large back up battery the housing itself is pretty large and roughly square (3.8" wide x 3.3" high) and fairly thick at 1.6". The lens is located in the top left corner and the PIR sensor is located below that. On the bottom right you'll see the Butterfleye logo. At the very top you will find a single button with integrated LED indicator and a microphone port on the top left.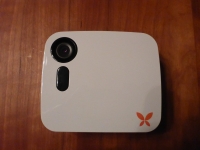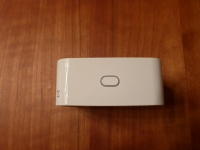 The corner opposite the microphone you will find the array of holes for the speaker. I was surprised to see these didn't seem particularly well finished as you can see in the picture below. Around the back of the unit you will find the DC input and a hole for manually resetting the device.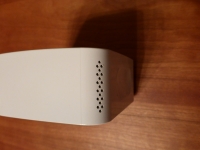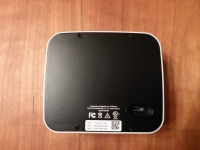 Despite the flash around the speaker holes; overall I think the build quality is solid and I like the gloss white as it doesn't show dust or fingerprints nearly as much as black might. I also found the USB power cord to be more than long enough for every location I tried.