In this review we will be checking out an external USB 3.0 drive enclosure that really isn't like your typical offering. The
ICY DOCK
ToughArmor MB991U3-1SB 2.5 inch USB 3.0 enclosure holds a single 2.5" drive and is designed to protect that drive very well. The housing is constructed of metal, with protective rubber sleeves, which definitely help the device earn the name ToughArmor. ICY DOCK describes it as being an enterprise-grade device, and we will see if that tag fits.


Before taking a look at the sample provided for review, let's check out some of the features and specifications taken from the
official product page
on the ICY Dock website...
Features and Specifications:
» Model Number : MB991U3-1SB
» Color : Matte Black
» Drive Fit : 1 x 2.5" SATA III HDD & SSD (Up to 15mm height)
» Connection Interface : 1 x USB 3.0
» Power Input : Power via USB
» Maximum Transfer Rate : USB 3.0 up to 5Gb/sec (USB 2.0 Up to 480 Mb/sec)
» HDD Access Indicator:
» Empty bay: LED off
» HDD idle: Solid green
» HDD access: Flashing green
» Drive Cooling : Airflow vents with metal heat dissipation
» Drive Security : 2 segment key lock
» Structure : Full Metal
» Dimension (L x W x H) : 141.4 x 110 x 35.4mm
» Weight : 461g
» Package contents : Device, user manual, screws, keys
Packaging:
The ToughArmor MB991U3-1SB enclosure is sold in the fairly plain looking cardboard box shown below. While there are no pictures, there are fairly accurate drawings of the product, as well as plenty of text to describe it. You will really know more than you need to before you even open the box.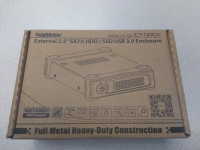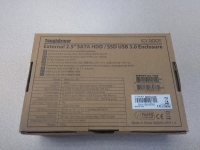 The MB991U3-1SB uses an interchangeable drive tray which is compatible with all of the devices show on the package in the below left image. Opening the box reveals that the documents are placed on top of the enclosure, and the balance of the accessories are below it.