Last but certainly not least, we are taking a look at the Jasco Enbrighten Café LED Lights. I have to be honest; when I saw them at a recent show I didn't pay them much attention. But afterwards I started researching some of the products I saw and really liked the promotional images and probably more importantly my wife did too. These strands come in 12, 18, 24, 36 and 48 foot lighted lengths with bulbs spaced two feet apart. If you need something longer; you can link up to 350 feet of these together. The wattage will depend on your length but it appears as if each bulb uses approximately 1 watt. They are commercial grade and UL rated for permanent outdoor installations.


Packaging and Accessories:
The Jasco Enbrighten Café Lights come in a full color box which on the front shows a close up photo of the bulb fixtures and two real world installation photos. In addition it mentions the lifetime LED warranty, its weatherproof design, maximum linkable length, color temperature (2700K), strand length and number of bulbs. It also mentions a cost savings compared to an incandescent equivalent, though I suspect people are going to be doing new installs with these not retrofits. The back of the box provides some additional details regarding impact resistance, mounting flexibility, year round permanent design and dimensional information.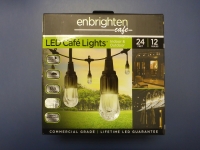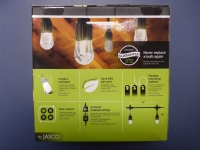 When you open the box you will find Enbrighten Café lights wound with twisty ties and a brief product insert. Immediately you are struck by the heavy weight construction of these strands. This is a double edged sword; on one hand I like the fact they are over built and look like they will last for many years of being installed outside, but on the other the wire is not so flexible. As you can see in the picture below of the bulb, the wire is so stiff it has a semi-permanent kink from the way it was packaged.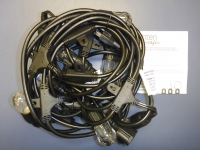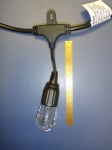 The Basics:
The Enbrighten Café Lights come with a three prong plug and receptacle. The outlet end has a cap which is tethered to the wire so you can't lose it, at least not easily. The wire and bulb bases are all black and the junction to the main wire above each bulb has a mounting tab. The tab is multipurpose and can be used with screws, zip ties or clips. The bulbs themselves are made of a very durable acrylic and have an old school shape to them that I really like. Also to add some visual appeal when the lights are off the acrylic bulb has trapped air bubbles in the tip like you would find with an artisan blow glass bulb.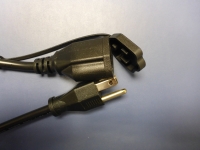 Initial set up
As I mentioned previously the wires are very heavy duty, especially considering the max wattage would be less than 200W. So with that said this is not likely something you will be able to install in the dead of winter. I ended up leaving mine out in the sun on the driveway for a few hours while I worked on other projects just to get them a bit more flexible. Then using some plastic clips I use for seasonal lighting I connected these to the soffits. Then running an extension cord from the GE 13868 Plug-In Outdoor Smart Switch completed the install. Total time not including the warming stage was 15 minutes.