The Basics:
As mentioned previously, the main body of the sensor is about 2.7" x 2.7" x 1.2". In the top right corner there is the opening for the sirens 90dB horn. Centered along the bottom is the D-Link logo. Flipping the unit over you will see the battery hatch and wall mounting slots.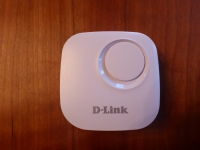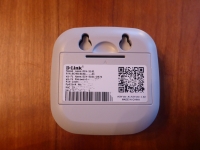 Along the top edge they have the reset switch and the action button/status LED. Typically once set up this LED should be solid green. It flashes red when it losses it's Wi-Fi, flashes yellow when ready for setup, and flashes green when connecting to the network. The bottom edge has the connection for the remote water sensor.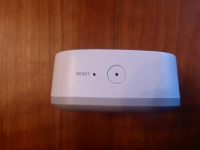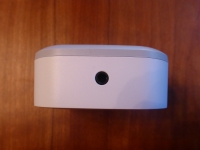 Setup:
Just like the smart outlet, the D-Link DCH-S161 is set up through the mydlink app. It all starts by scanning the QR code on the back of the device. From there the app walks you through the basic steps. After you connect the sensor cable and insert the batteries you wait for the device to start flashing orange.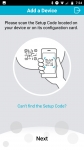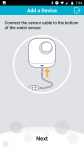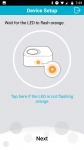 Then you will connect to the device's Wi-Fi and provide it the credentials to connect to your home's Wi-Fi. Once you are connected the app will ask if you want to set up a designated contact. This is the person you would want to respond to the water leak other than yourself. The app then provides some details about placement considerations and finally your device will end up in your shortcuts if you follow the default set up.