The Basics:
The DCS-8300LH has the same basic shape and size as
the DSC-2530L we reviewed
a while back, only in this case most of the housing is gloss white rather than gloss black.


There is a large round housing at the top which contains all the guts to the device; the face is gloss black and the back is gloss white. Centered in this section is the lens to the 1080p camera and IR emitters are hidden behind this face. Directly above the lens you have a light sensor and above that there is a small hole for the microphone. This round section is free to move around in the base assembly allowing you to set things right side up regardless of your mounting configuration.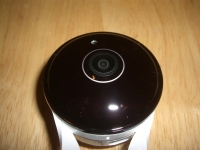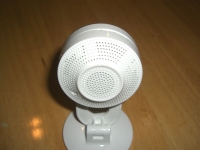 On the side of this circular housing is the microUSB port for power and microSD card slot for local recording. Around back there is a reset switch and holes for the speaker and possibly ventilation. The base itself is pretty simple and also has a round base to keep things somewhat symmetrical. The bottom of this base has two slots should you want to wall or ceiling mount the camera with the included screws.