Performance
I was immediately impressed with the video from this camera. It is a high quality feed and the field of view they get without the typical fish eye look is amazing. They claim this camera has a 180 degree field of view and I believe it. I set this up on an entertainment center, and in the picture below you can see the edge of this unit on both sides (circled in red for reference).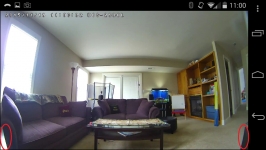 The next image is from a D-Link DCS-935L, which is a more typical IP camera. Looking at the images it is clear how much more of the environment you see with the 2630L. You can actually see all the way down the hallway into my son's playroom which is about 35 feet away. Truly incredible and makes mounting super easy. You will also notice that the light sensitivity is much better on this 2630L than the 935L when both are set to default settings.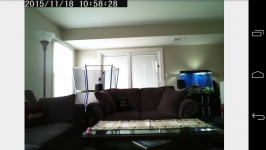 This camera is wireless and full HD camera, so depending on your network and where you place this you may start to see some frame rates dropping. This device does have both 2.4 and 5 GHz radios, so if you have an AC router you may have better luck. With that said, I moved this camera around my home and didn't notice any issues on my test 802.11n network.
Like many of the devices in this price range, this unit has two way audio. There is the typical slight delay but this is to be expected. The only issue I have had was with background noise. Three other cameras that have been mounted in the same area were not picking up this noise so I think it is something internal to the unit. This unit does have the option to set sound alerts. Using the app you can enable them, but to configure the threshold you need to directly log in to the camera. As seen below the set up is very easy, you simply enable it, then choose a detection level. Even though I hear some background noise this does not trigger false alarms at the setting shown below.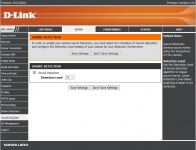 You can also access the video clips stored on the micro SD card via the app as described in my previous review of the
2210L
. I found this to be very useful, but since this camera is wireless only I found the load times to lag a bit more than on the 2210L. Again, maybe installing this on an 802.11ac network would help.