Performance:
For update go here.
While much of the installation portion of the app was in English, that is not the case for the majority of the text inside the app. While I was asked to consider the fact this was an early version of the app, the lack of English in things like the FAQ section made it exceptionally difficult to get this thing working right. In fact I never did.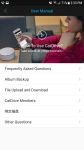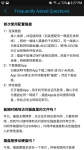 Primarily this device was designed to be your personal back up device and most of us are concerned about securing our photos, so I focused on trying to get this part of the app/device to function. As you can see in the screen caps below, there is still quite a bit of Chinese in the app but blindly poking around I was able to find settings for the auto back-up. Sliding the Auto Back-up on reveals a pop up indicating it will only happen when you are on the same LAN as the device.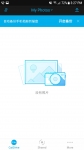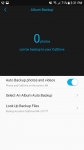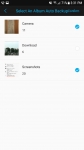 Personally I would prefer the option to be able to back up my data anywhere, especially since many of us have unlimited data at this point. But moving on; you can select which folders to back-up. Unfortunately if I selected and folders, backed out and went back to check on my settings, the selection was still the default. What is worse is the auto backup still doesn't back up this location. I was able to manually force the back up of the data but this defeats the purpose of this device.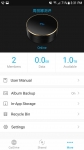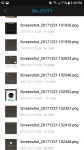 Conclusion:
For update go here.
In the end I opted not to test any other features since the main point of the device just didn't function. I have been told the app is still a work in progress but I would have assumed basic functionality would have been working prior to them sending out review units. Besides they have already had two months to tweak the app. At this point I can't recommend this device at any price point more than $50 which is about the going rate for a 1TB laptop drive. But at the current discounted Indiegogo price of $149 I would wait for an app to be officially available on your respective store and see what the reviews are first. If I needed a personal back up device right away and couldn't afford a full blown NAS, I would be looking into something more along the lines of a WD MyCloud. While I have not personally used one I would suspect WD has things pretty well sorted out. Maybe soon they will have this app working but until then we just can't recommend the CatDrive.
Pros:
» Nice looking device
Cons:
» Auto back up doesn't work
» App is a major work in progress.
Please drop by the Bigbruin.com Forum and feel free to post any
comments or questions
.