A few weeks back we posted
a review for the Halos CatDrive 1TB networked drive
, and well, it wasn't very good. The app's interface was mainly in Chinese, and quite honestly the basic functionality never worked. The Halos team didn't give up and requested we take a fresh look at an updated version of the device. Since the hardware for the device didn't actually change I will only be revisiting areas of the review that are impacted by the firmware update. Below please find additional discussion of the Performance and Conclusion sections, the rest is basically unchanged minus a few app screen updates.


Performance:
Previously the app was riddled with a lot of text in Chinese which made set up a bit of a chore. I am happy to report that I haven't found any Chinese in the officially released app on the Google Play store. There is some broken English and a few misspellings, but you get the gist of everything. There are some things that aren't visually pleasing, but to be honest, if it works I don't care much. One of these can be seen below; where the fonts in the header are mismatched. Because of this one might miss the "Confirm" button when selecting folders.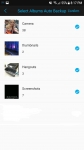 Opening the CatDrive app you'll find three tabs at the bottom of the page; the first is labeled CatDrive, the second is Shared, and the last is More. I will start with the More tab. Going here you can see how many members have access to the drive, data used and data available. If you tap on Members you can see the names all those people, plus see how much data they have contributed. In the top right you can add new members. Clicking this allows you to send an invite to anyone in your contacts, or to directly dial their mobile number. Selecting Data will give you a breakdown of the number of files and data allocation for each type of file which is broken into Photo, Video, Music, Document and Other. Selecting available, you get a pie chart of drive space used vs. unused. Below this you have access to the User Manual, all options I selected were in English.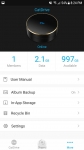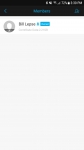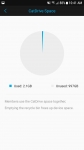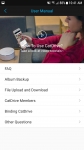 Below that is Album Backup, and selecting this allows you to customize your photo back up. You can select Wi-Fi only or also chose to use cellular data. Below these sliders you get to select your albums or folders on your device. Here you have to remember to hit Confirm in the top right to make sure it accepts your selections. The last selection allows you to see what pictures were backed up by the day. In-App storage are files saved to your device by the app and Recycle Bin needs no explanation. Under Settings you can change your profile, enable cellular data, clear cache, change language, etc. Under CatDrive settings you can enable the device LED, restart or unbind the Catdrive. But one option is a bit of a mystery, Close Catdrive.