CatDrive is a new product from
Halos
that is currently in crowd funding on
Indiegogo
. The concept is fairly simple, a private storage device that is designed to be a multi-user, auto back up device you can access from anywhere. Since it is your own device you won't be paying monthly fees for cloud storage either.


The CatDrive has a rather unique shape considering it has a standard laptop drive inside. Rather than the typical rectangular shape of most enclosures, this unit is round. Inside the white or black housing is a 1TB 5400 rpm drive, with a dual core processor and 512MB of DDR memory. It also has a Gigabit Ethernet port for simple connection to your network. Below are some detailed specs from their website.
Features and Specifications:
» Height 52mm
» Diameter 130mm
» Weight 370g
» Processor Marvell Armada Dual Core 1.0 GHz
» ROM 8GB EMMC
» RAM 512MB DDR3
» Hard Disk 2.5 inch 1TB 5400rpm SATA 3.0
» Cooling 1 slow speed ultra-silent fan with air duct
» Internet interface (1) Gigabit Ethernet port
» Reset (1) reset hole
» Interface (1) power port DC 5V 3A
» Power input 100-240V 50/60Hz
» Account Usage Unlimited user account, allowing up to 5 user visits at the same time
» Operating ambient temp 0-40C
» Storage temp -20 to 60C
» Storage humidity 5-95%RH
» Total power consumption Sleep 2W, access 5W
» Operating noise 18.5 dB
» Operating system Customized based on Linux
» Certification standard FCC part 15B CE.En55032.EN61000 EN55024 GB17625.1-2012 GB4943.1-2011 GB/T9254-2008
» Warranty 1 Year
Packaging and Accessories:
The CatDrive comes well packaged in a mainly black rectangular box with a full color image of the drive on the front with the capacity printed on the top right. The back of the sleeve reviews several of the key functions of the device. Removing the sleeve reveals a very sturdy black and blue box.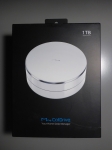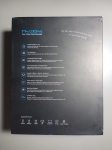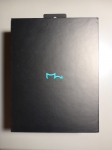 Lifting the cover you'll find the CatDrive unit neatly stored in a foam block. Below that is a small cardboard box that houses the accessories. The unit comes with an instruction booklet, AC adapter, power cable, and Ethernet cable.