Conclusion:
I really think Pittasoft has outdone themselves with the
BlackVue
DR900S-2CH Dashcam. When I
reviewed the DR650S-2CH
I thought the rear camera and Wi-Fi could be better, and I wanted the auto locking of event files. With the DR900S-2CH they delivered on all of this and more. Increasing the rear resolution from 720 to 1080 made a world of difference in being able to resolve license plates behind you. The AC wireless proved to provide a much stronger signal in my driveway than the older 650S. Then the auto locking of event files made this a near perfect device in my eyes. This really is super critical should you even become incapacitated and are not able to secure the files. Speaking of securing your files; BlackVue also offers a
tamper proof case
for your device that I highly recommend. This will make it much more difficult for someone to walk off with your device and data.


While I would love to see a future firmware update include the two stage impact event recording, their inclusion of a 4K main camera basically sealed the deal for me. At close to $500 at places like
Amazon.com
or directly from
BlackVue
, this isn't a cheap device, but I can tell you from past experience it is well worth it should you get in an accident. My experience with a somewhat recent accident was that I spent countless hours on the phone, was lied to by insurance companies, and basically given the run around for weeks. Had I installed a BlackVue prior to that, I would have been able to prove the other driver was at fault without the hassle. Your time and sanity is worth much more than you think.
In the end, the
BlackVue
DR900S-2CH Dashcam earns the Bigbruin.com "Highly Recommended" award.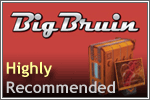 Pros:
»Front resolution is incredible and rear camera is great
»BlackVue is well established and has tons of accessory options in house and aftermarket
»Auto locking of event files is crucial.
»Parking mode is great for those who park in busy areas
»Wi-Fi is much improved and provides a stronger connection.
»One year warranty
»Over the Cloud features are super cool
Cons:
»Over the Cloud features could get expensive with heavy use
»Not really a Con, but would like to see two stage event recording.
Please drop by the Bigbruin.com Forum and feel free to post any
comments or questions
.