The Basics:
As far as form factors go, the
OCZ Technology
Solid 2 60GB SSD looks like just about any other 2.5" drive in recent history. The brushed, blackened casing gives the drive a bit of a classy look versus bare metal. On one end, the typical SATA II data interface and SATA II power plug are present.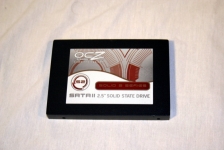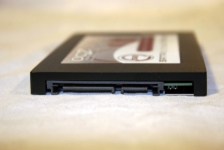 On the bottom of the unit, we see a sticker with the typical certifications and warnings. The one stating 'Removal of the cover will void any and all warranties' makes one think twice about it, maybe.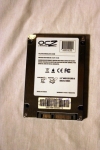 After tossing the 'Should I?' question around for about 30 seconds, I decided to probe the inside of the Solid 2 60GB SSD. Unlike many SSD drives which require Allen keys or Torx tools to open them, the Solid2 only requires a small Phillips screwdriver. My jeweler's driver set has one such tiny tool, and it's very slightly magnetized - good to prevent losing tiny screws.
With the cover removed, we can clearly see the internal workings of the Solid 2. On the bottom of the drive we can clearly see eight 4GB NAND Modules and the Indilinx controller module. Also in view is the 64MB Elpida cache memory chip.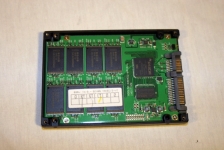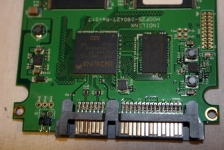 On the bottom of the PCB (top side of the drive), the remaining eight 4GB NAND Modules are presented.