Testing (continued):
ATTO Disk Benchmark:
ATTO's Disk Benchmark v2.41 was used to compare the top speeds of the drives. The test was run in a fairly standard configuration; with a transfer size from 0.5 to 8192KB, a total length of 256MB, and the queue depth at 10. Read and write results are provided in terms of MB/s, and higher is better. A small sampling of the many results provided are shown in the charts below.
The first graph takes a look at a sample from the lower end of the transfer size scale; 64KB (read), where you should not expect to see the full speed of the drive shine through. The Kingston mSATA drive comes in at just over 450MB/s, which is definitely respectable. For comparison, the other mSATA SSD tested (a 120GB MyDigitalSSD BP4) is rated for 560MB/s read and it put up a speed of 496MB/s in this test.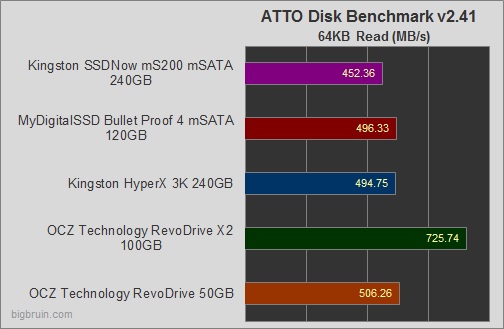 When we look at the write portion of the 64KB phase of the test we see that the Kingston mSATA drive is now the faster of the two mSATA drives tested.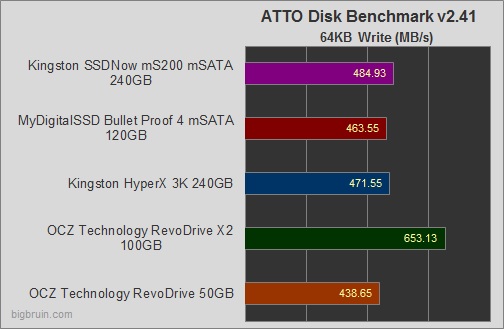 The next stop for ATTO was at 8192KB (8MB), and we have the read results in the chart below. The drive is rated for 540MB/s, and here we see it coming very close at 538MB/s and change.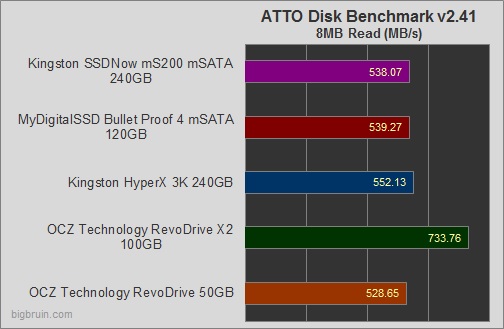 On the write side of things we see about the same thing at the 8MB target... The Kingston drive is very close to its published maximum write speed (530MB/s), but this time it has exceeded that value by a few MB/s.