Ximeta NetDisk (80GB) - Page 1 of 3

External storage devices come in numerous shapes and sizes, but in general they are all accessible by either USB, Firewire, or both. The Ximeta Netdisk is the first device to offer connectivity to your computer via USB 2.0, as well as connectivity to an entire network via an Ethernet connection. The NetDisk is currently the only offering from this corporate youngster, which describes itself as "a data storage solution company focusing on the growing trend toward networked information storage, in which storage systems are linked on a network via Ethernet."

Available in three capacaties (80 GB, 120 GB, and 160 GB), Ximeta was kind enough to supply an 80 GB unit in the package shown in the below left image.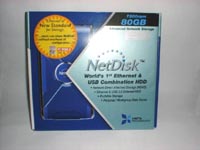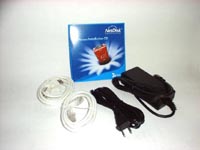 Package Contents:

• NetDisk™ Ethernet/USB 2.0 Combo External Hard Drive
• Ethernet cable (UTP Category 5)
• USB 2.0 cable
• AC Adapter with power cord
• Software installation CD
• Quick Install guide
• 1-year warranty

The Basics:

The above right image shows everything listed above, minus the NetDisk, which is shown in the front and rear views below. Each capacity NetDisk is sold in a different colored aluminum housing. The 120 GB unit comes in a silver housing, the 160 GB unit comes in a reddish housing, and the 80 GB NetDisk is sold in the purplish-blue housing shown. Measuring 8.3" long, 4.7" wide, and 1.4" high, the device isn't the smallest portable storage device I have seen, but still quite compact for a 3.5" drive enclosure.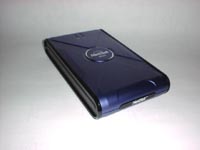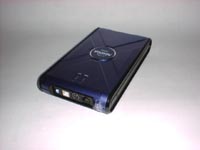 The below left image details the features found on the back of the NetDisk, from left to right: manual sip switches for USB 2.0/ethernet, USB 2.0 connector, power connector, and RJ-45 ethernet connector. The below right image is a close up of the status lights found on the top of the device. The PWR indicator glows green when powered on, and the ACT indicator glows yellow during disk activity.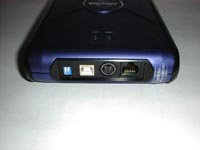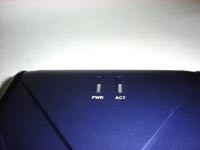 Installation:

The NetDisk was connected to a Linksys 10/100 Switch via the supplied Cat-5 Ethernet cable, which in turn was connected to the Windows XP based PC being used for testing. A straightforward software installation was followed by a reboot, and it was just about ready to go... During installation you must choose to install the NetDisk via USB 2.0 mode, Ethernet mode, or NDAS mode. NDAS is Ximeta's own acronym which stands for Network Direct Attached Storage. This descibes the ability to make the NetDisk available to multiple systems on a network when connected to a hub or switch, as opposed to Ethernet mode which connects the device to one system via the ethernet cable. NDAS mode was chosen for installation, and subsequent use via USB 2.0 did not require any additional drivers to be installed.

The unit shipped with driver support for Windows XP and 2000 only, but recently developed drivers are available for download supporting RedHat Linux 8.0 and 9.0, as well as Mac OS X. The NetDisk has only been on the market since the summer of 2003, and I would anticipate driver support growing as the device matures.

As a final step of the installation, the device must be registered as shown in the below left image. At this point, read/write access to the drive is established, and its now available for use. The below center image shows the NetDisk in Windows Explorer as drive letter "I", just like any other hard drive in the system being used. I mistakenly assumed the NetDisk would show up as a networked drive or another device on my network. Checking the properties of the drive reveals that this particular unit is housing a Maxtor 6Y080L0, a high quality choice, although I have seen other reviews where different brands have been used.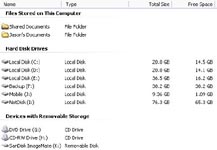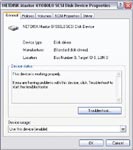 Please read on to page 2 for more on the Ximeta NetDisk... Next.

Page 1 | Page 2 | Page 3 | Home | Forum | Review Index | Page Views:
Bruin Tracks
» Up to 35% off at Monoprice.com

» Shell Shocker Deals at Newegg.com

» eBay
- Shop Victoriously!