ASUS A7N8X Deluxe Motherboard Thermal Images - Page 1 0f 1
Posted: August 06, 2003
Author: Spire
Manufacturer: ASUS
Source: N/A - Search PriceGrabber for best deal.


The following images show some of the worst heat generating components of the ASUS A7N8X Deluxe Motherboard. The images were taken with a Mikron IR Thermal Imager and a Canon A40 Digital Camera.

System As Tested:

• ASUS A7N8X Deluxe Rev. 104
• AMD Barton 2500+ at 2208 MHz (200 x 11)
• Thermalright SLK900U w/ 92mm Vantec Tornado
• Corsair XMS PC3200LL DDR DIMMS (2x256MB)
• ATI Radeon 9700 Pro (stock speeds)
• 2x80 Gig WD SE HDD's in Raid 0 (Highpoint Converters)
• IOSS Bios Savior with 2x 1004 UBER bios (reviewed here)
• Antec TruePower 430 Power Supply
• Sunbeam Rheobus #2

Imaging Conditions:

System had been up and running idle for 4 hours, Unreal Tournament was running for 30 minutes in demo mode to heat things up. 92mm Tornado was at half power, all other case fans were at full speed. Southbridge chip has a heat sink applied to it with included thermal tape. No modifications to Northbridge were done. SLK900U has been modified to fit on this board. Side case was removed for imaging.

MBM Reported Temperatures:

• Ambient Temp 25c (78f)
• CPU Diode Temp 43c (109f)
• Socket Temp 33c (91f)
• Case or MB Temp 29c (84f)

Click Images Below For A Larger View & Description...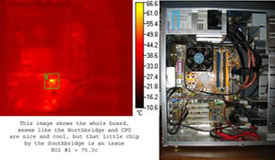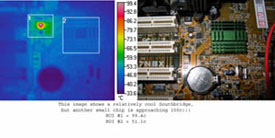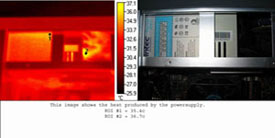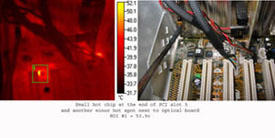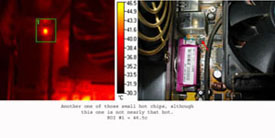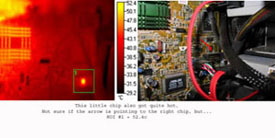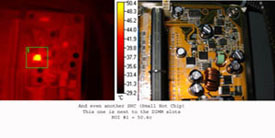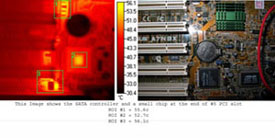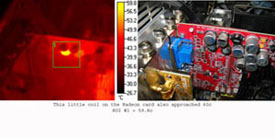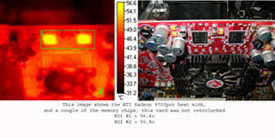 I only included those images that showed elevated temperatures. No matter how hard I tried, I couldn't get any heat out of the CPU and Heat sink. The Northbridge did however show a little heat leaking out from under the heat sink, confirming that the sink is probably concave and the compound was not very well applied. I only saw this with the camera settings really screwed up, it didn't show up after I figured out how to work the thing!!! I will try and keep this page updated with more pictures as I modify and add goodies.

After a bit of research, it looks like the little "smoking" chip by the south bridge is the Chipset Voltage Regulator CM3708 (Thanks to the MJ Vdd mod at nForcersHQ) I wonder if its "just under boiling" temperature is part of many of the problems associated with this board. Could this be the Bios Death trigger? Maybe the Soundstorm noise maker? Who knows? I'm thinking one of the spikes from a Northbridge style sink glued on there might help.

I think the Radeon is a good place to attack also. Those memory temps are really not good. A couple of well-placed sinks would keep them nice and cool.

I hope these images help. - Spire

Please drop by the BigBruin.Com forum and feel free to discuss this review!

Home | Forum | Review Index | Page Views:
Bruin Tracks
» Up to 35% off at Monoprice.com

» Shell Shocker Deals at Newegg.com

» eBay
- Shop Victoriously!