Seasonic Power Angel Power Monitor - Page 1 of 3

Seasonic is a fairly familiar name in computer power supplies, especially at BigBruin.Com where four different units have found their way to our test bench for review. Seasonic has sent over one of their newest items for review, but this time around it is something other than a power supply. The Power Angel is a compact diagnostic tool which allows users to monitor power consumption of just about any 110V device. Ever wonder how much juice your high-end PC is drawing? Or much money that air conditioner is costing you every month? The Power Angel power monitor is just the device to let you know...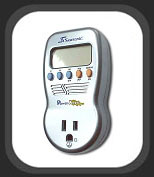 The Power Angel is sold in the blister packaging shown below. Many of the features and basic operation instructions are provided, while giving a clear view of the actual product. All ready for display at your local computer shop (or perhaps an electronics store or home improvement warehouse).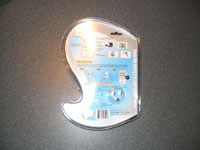 With the packaging opened, the paper insert can be folded open to reveal greater detail on the specifications, maintenance, and safety precautions that accompany the Power Angel.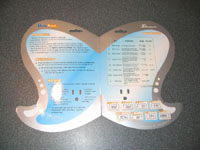 The images below provide an up close view of the device itself. The silver plastic housing is lightweight and fairly compact , and the contoured base makes it easy to grab while unplugging from an outlet. Basically, on the front you have the large LCD display, 5 labeled buttons (some with dual purposes), and a female 3-prong receptacle to provide power to your device to be tested. The back features a male 3-prong plug for receiving power.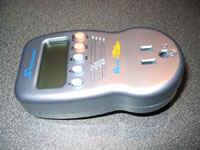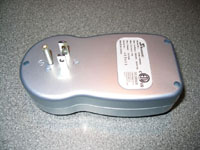 The device appears simple enough, so lets take a look at some published data regarding the device and its function. The list of "Product Information" below was compiled from the Seasonic website, as well as the Power Angel packaging...

Product Information:

• Dimensions: 133.6(L) x 70.0(W) x 39.6(H) mm / 52/8" x 24/8" x 16/8"
• Weight: 130g /4.06oz
• Approvals: ETL for US and Canada
• Operation Voltage: 115V 50/60 Hz
• Max. Voltage: 125V 50/60 Hz
• Max. Current: 15A
• Max. Power: 1875VA
• Accuracy: 2%
• Warranty: 6 months
• Power Consumption: 10W max.
• Operating Environment: Temperature 0C~40C
• Max. Related Humidity: 80%

A few comments on some of the items... The accuracy of 2% seems like more information is required, and I am under the impression that it means +/-2%, which is definitely tight enough for my needs.

Also, the 6 month warranty may seem short, but given the nature of the device, I can imagine misuse would be the most likely source of failure. For example, I know I have a few space heaters on hand that may be able challenge the 1875VA Max. Power and send the Power Angel to electronics heaven at a young age!

Please read on to the next page for more... Next

Page 1 | Page 2 | Page 3 | Home | Forum | Review Index | Page Views:
Bruin Tracks
» Up to 35% off at Monoprice.com

» Shell Shocker Deals at Newegg.com

» eBay
- Shop Victoriously!