Lilliput 7" Wide Screen TFT LCD Display with Touch Screen - Page 1 of 6

The growing popularity of small form factor computers has done wonders to increase the availability, while also decreasing the prices. As the prices of mini systems become easier to afford, more and more systems are finding their way into less than typical installations, such as in the family car. Using a computer in a car obviously requires special display and input considerations not needed in the home, and the Lilliput 7" display featured in this review addresses both. The 7" VGA TFT LCD display features a resistive touch screen, making it easy to view and control basic applications with one compact device.

The Lilliput 7" wide screen VGA TFT display with touch screen, model number 619GL-70NP, comes to BigBruin.Com for review from Logic Supply. Logic Supply is a familiar name at BigBruin.Com, and most likely to many mini-ITX enthusiasts. They offer a large selection of mini-ITX and other small form factor related items, and recently left the Boston area for a larger facility in Waterbury, Vermont.

Lilliput Electronics Co., Ltd. is based in Fujian, China, and bills itself as a "Pioneer of mobile lcd video manufacturer!" Some background data on the company can be found on their website, including this summary "Zhangzhou Lilliput Electronics Co., Ltd. established in 1995, is the most professional manufacturer of Mobile TFT LCD VIDEO (TV/Monitor) in China. Backed up with our powerful R&D staff, we are having the ability to design and machining LCD Video as per your various requirements."


The Lilliput 7" display is sold in the packaging shown below. A box usually isn't much to get excited about, but this one is pretty cool and might be worth keeping. The heavyweight cardboard seals via magnets, and with the plastic handle affixed to the top, it may make for a convenient way to transport the little display for years to come.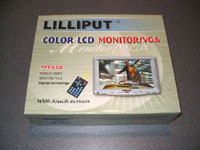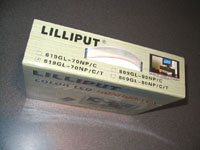 Before taking a look at the actual features of the device, lets take a look at the published data...

Specifications / Features (as taken from the Logic Supply website):

• Screen size: 7 inches digital
• Ratio: 15:9 wide TFT screen
• Resolution: 800x480
• Dot Resolution: 2400 x 480 (= 1,152,000 dots)
• Color configuration: RGB stripe
• Video system: PAL/NTSC
• 2 Video inputs plus 1 Audio input
• VGA input (USB interface)
• Touch screen display
• IR remote control
• Full function OSD control (Multi-language)
• Audio output: Speaker built-in
• Video input signal: 1.0Vp-p, composite video
• High resolution and no radiation
• Computer display/S-video/DVD/VCD/Security system/Navigation system compatible
• (Rear view camera connectible)
• Mount type: Dash board
• Power input: DC 12V
• Power consumption: 9W

Please read on to the next page for more... Next

Page 1 | Page 2 | Page 3 | Page 4 | Page 5 | Page 6 | Home | Forum | Review Index
Bruin Tracks
» Up to 35% off at Monoprice.com

» Shell Shocker Deals at Newegg.com

» eBay
- Shop Victoriously!