ATake Phantom Robot ChipsMod IV - Page 1 of 1

Most people modifying their computer case will put in windows, lights, fans, a cool looking heat sink on the processor, and sometimes they mod their video card. Little attention is given to other chips, such as the Northbridge. The Northbridge chip has an important role in the communication between the CPU and the memory, AGP, PCI and L2 cache, and needs to be kept cool. ATake has introduced a chipset cooling mod, the Phantom Robot ChipsMod IV, which will be tested on a MSI K8T800 NEO-FIS2R's Northbridge.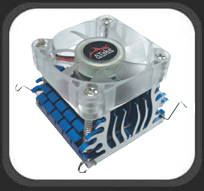 Specifications (taken from the Wisetech website):

"ChipsMod is your optimum choice to dissipate the heat from all your PC Chips. Install your ChipsMod with either easy to use mounting clips or adhesive. Chips Mod IV will keep your chips at a cooler temperature to insure that your computer is operating efficiently."

Overview:
• Heat Sink Material: Extruded Aluminum
• Heat Sink Size: L42 x W37 x H25 (mm)
• Fan Size: 40 x 40 x 10 (mm)
• Colors: RED, BLUE
• For NorthBridge Chipset Thermal Pad x 1pc
• For other Chipset Thermal Adhesive x 1pc
• Wire-Spring Mounting Clip x 2pcs
• NothBridge Chipset Spacer Foam x 1pc

ChipsMod IV Information:

The ChipsMod IV is packaged in a plastic snap together pack, with the heat sink, fan and other items packaged separately. The package is more than sufficient for shipping, and will not cause any damage to the unit or other included items.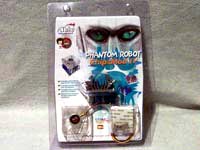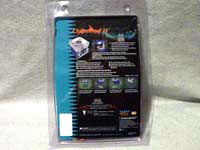 The ChipsMod IV ships with all the necessary components to allow this unit to fit any motherboard. It includes a fan (40mm X 40mm X 10mm, rated at 4600 RPM), thermal paste, wire spring plugs and adapters for AMD motherboards, pre-mounted clip connectors for Intel P4 motherboards (in which case you use their clip adapters with additional clips), wire fan clips, a foam spacer, and thermal adhesive for other motherboards (and other chips).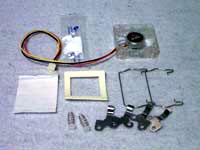 The images below show you a close up view of the ChipsMod IV. You can see what makes this heatsink different than the others. Its design gives it a "flame" appearance, instead of the normal square look of most heat sinks. This heat sink is rather substantial in size, with dimensions of 42mm X 37mm X 25mm (L X W X H). Being made out of aluminum it is extremely light weight. Except for the sides, this entire unit has been anodized either blue or red.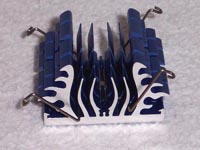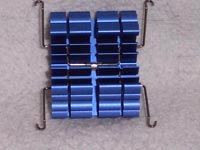 The coloring is continued on the bottom surface which will touch the chip. Since the bottom of the unit was anodized, there was no reflection in the finish, but it is very flat, and is as smooth as most CPU heat sinks I have seen.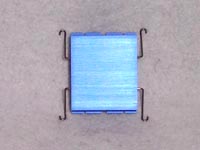 Installation:

Installation of the unit is not difficult, but does take a little bit of time. Depending on your current Northbridge heatsink, you might have to remove it from the bottom of the motherboard, which could mean totally taking your system apart. Of course if you have an Intel system that uses the hook system, you won't have to do that.

Here is the default MSI Northbridge heat sink... Nothing special, just a typical aluminum cooler.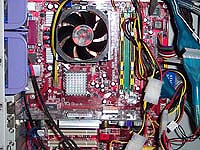 For AMD based systems, before applying the thermal paste you will want to decide which of the two sets of spring plug adapters you will use. These are marked with an A or B. On the back of the package it shows the difference, which comes down to which side the MB holes are on. These were rather difficult to get to stay on long enough to plug it into the holes. Using the Intel hook system, this would be much easier to do. I had trouble using the spring plugs on my AMD 64 MSI motherboard, and had to use the thermal adhesive. After the system was on for a little bit, and the Northbridge heated up, the thermal adhesive did its job by keeping the ChipsMod IV connected securely to the Northbridge. I would have preferred to use the spring clips so I could use a better thermal paste, such as Artic Silver.

One thing to keep in mind, if you are planning to use the included fan, you will really want to attach the fan to the ChipsMod IV prior to connecting to the Motherboard. I realized this later, because I wanted to get temperature readings with and without the fan. The fan clips don't secure the fan to the ChipsMod IV 100%, there was some movement once it was connected. You could not remove the fan without removing the wire clips though, which required some prying to get them off. The unit I received did not include any documentation on how to attach the fan using the clips, the documentation is still being developed and should be ready soon.

Here you can see the ChipsMod IV attached to the motherboard, with and without the fan.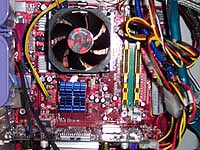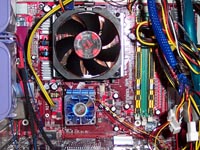 ATake lists a blue LED fan as an option to the ChipsMod IV fan, and it was included with the review sample. I could not find any information to confirm this, but a quick e-mail to Wisetech confirmed that a red LED fan is included with the red colored ChipsMod IV cooler.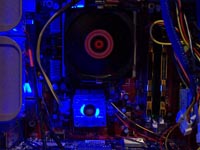 Testing:

To test the ChipsMod IV, I installed it in the following system:

• AMD Athlon 64 3200+ processor
• 1gb Ultra 3200 DDR (previously reviewed here)
• MSI K8T800 NEO-FIS2R motherboard (default settings)
• PNY Geforce FX 5600 Ultra video card
• WD 200GB SE hard drive
• CoolerMaster CoolDrive 4 (used to take temperatures and fan speed)
• Case Temperature at 20.5C

To take the load temperatures, the following applications were run for several hours:
• Photoshop CS
• EverQuest 2
• Folding@Home 4.0
• Sisoft Sandra 2004 Burn In Wizard

The chart below lists the temperatures indicated by the CoolerMaster CoolDrive 4 during testing. As you can see the ChipsMod IV with no fan installed performed approximately 3C cooler than the stock MSI Northbridge heat sink, and a whopping 6C cooler once I added the fan (at default speed).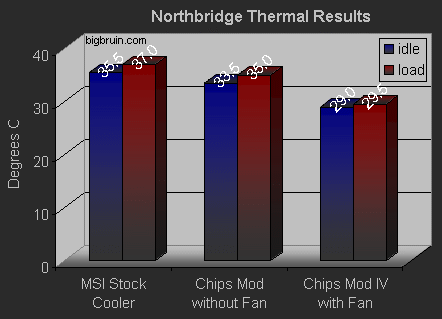 The included fan ran at a default speed of 4600 RPM. Using my CoolerMaster CoolDrive 4, I could turn the fan down to 1500 RPM, and up to 5170 RPM. At any speed, the fan was indisquinable from the rest of my system, but as you would expect you could feel a difference.

Lowering the fan speed, only changed the temperature readings 1.5C, which will still put it well below the stock MSI cooler. Raising the fan speed to 5170 resulted in another 1C cooler! Giving it a total potential of 7C cooler!

Conclusion

There are certainly other coolers, but none of them can be compared to the ChipsMod IV's unique looks. As for the performance, that's marginal without the fan, giving only a 2 degree C advantage over the stock MSI heat sink. Add the fan on there, and that improves to almost a 6 degree C difference! That's a good difference, and if you're overclocking your system, you will want to keep all components as cool as possible.

The ChipsMod IV will be priced around $10.99, which is very reasonable for the amount of cooling it offers. Now, there's no reason to overlook the Northbridge when you're modding your system!

The price to performance ratio scores big points, but a few points are lost for having to use thermal adhesive instead of the mounting clips. Overall I have to give this a 4.5 out of 5... "Readily Recommended".

Final Rating (4.5 out of 5 stars):







Pros:

• Unique design
• Good cooling performance with and without the fan
• Quiet, high performace fan
• All accessories included for any possible chip set

Cons:

• Had to use thermal adhesive on AMD 64 motherboard
• No documentation on attaching fan

Special thanks to Wisetech for providing the ATake Phantom Robot ChipsMod IV chipset cooler to BigBruin.Com for review!

Please drop by the BigBruin.Com Forum and feel free to discuss this review.

Page 1 | Home | Forum | Review Index | Page Views:
Bruin Tracks
» Up to 35% off at Monoprice.com

» Shell Shocker Deals at Newegg.com

» eBay
- Shop Victoriously!