In Use:
In this section we'll walk through a bunch of what the
Camangi
has to offer. They have installed a customized version of Google's Android operating system, something that not only offers promise for smartphones, but also tablet PCs.


Pressing the power button turns on the screen, and within a second or so the text "android" appears off to the left. This is followed by the Camangi splash screen shown in the image below. While other reviews are reporting a boot time of about 35 seconds with this new version of the WebStation, this one consistently clocks in at about 44 seconds. While I wouldn't expect it to be ready instantly, that does seem a bit slow considering that many full computer systems can boot faster than that now.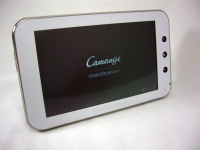 We've seen the main screen a few times now thanks to promotional images, but image below shows an actual image of the review sample. At the top of the screen you have a status bar where icons indicating WiFi signal connectivity / strength and battery level are indicated. Below this we have a Google search box which spawns a browser window upon hitting the submit button.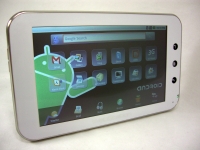 Next we get to the base applications, which are listed in two rows. In the first row we have a link for Gmail, which is not for the Android Gmail app (one of many Google apps that would be nice to have) but instead simply a link to the web version. In the same row we have a link to the Gallery photo viewer, fring VoIP, two eBook readers in the form of Google's Gbook and Aldiko, and finally a link to connect a USB 3G dongle. In the second row of applications we have far less exciting items, including an alarm clock, calendar, application installer, task manager, calculator, and "Spare Parts" which takes you to a menu of miscellaneous settings.