The Basics:
We'll take a quick tour of the
Camangi
WebStation's physical features before seeing how it performs. The front of the device is dominated by the 7" resistive touchscreen. To the right of the screen there are three buttons used to control a variety of functions, while most other commands are entered by touching the screen. Along the left hand edge, the only features are a pair of buttons to control volume up/down.


Other than the three buttons and two LEDs (that indicate power and charging status), there isn't much on the front, which gives it a clean and sophisticated appearance. The screen and the bezel are all protected by one smooth sheet of glass (maybe plastic) that stretches to the chrome trim found wrapping around the edges of the device.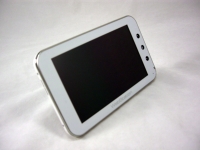 Attaching the kick stand to the back of the WebStation helps us to get a look at some of the features found around the edges, and on the back. A MicroSDHC flash memory slot is found centered at the top of the back surfcae, and Camangi has provided an 8GB card for storage of your media. We also see a power button located along the top edge, and vents for speakers in both corners at the top of the device.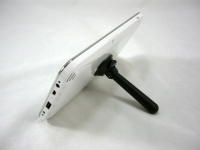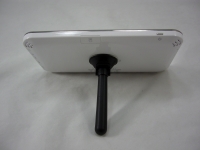 The right hand side is where the bulk of the features are located on the WebStation housing. In the image below we see the three buttons and two LEDs mentioned previously, as well as a small pin hole on the front panel for the built in microphone. Along the edge we have the AC power adapter connection, a full sized USB port, a reset button, a mini USB port, and a headphone jack.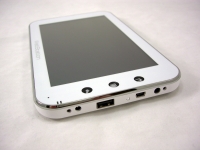 Along the bottom edge is where a stylus can be found. While you can use your finger to control the WebStation, the stylus is the less greasy - more precise alternative. My main issue with the stylus is that it is pretty tricky to get it out. I need to make sure at least one finger nail is allowed to grow in order to get some traction to flick it out of its tight little slot.
Overall I am rather impressed with the build quality and appearance of the WebStation. It feels solidly made without being heavy, and definitely looks pretty slick.