Conclusion:
The
OCZ Technology
Vertex 4 256GB solid state drive is an impressive unit, and a nice upgrade over the previous generation of Vertex drives. It offers more than you would expect from a consumer class drive, with fast transfer rates, and a 2.5" drive adapter that will make installing the drive in to either a laptop or desktop extremely easy. During testing it received top scores in most of the tests executed, and was particularly strong in most of the read tests where the only close competition was an Intel 520 series drive. However, when it came to write speeds none of the reference drives were even close.


To keep the drive running properly, OCZ has included TRIM, background garbage collection, and Indilinx nDurance 2.0 Technology. nDurance 2.0 increases the lifespan of the drive, reduces the impact of file compression read/write performance, and has adaptive NAND Flash management. All this is also bundled with an industry leading 5 year warranty.
The only very minor issue I have with the Vertex 4 is that OCZ does not provide a way to manage the 256-bit AES encryption. You can perform a secure erase on the drive using the OCZ Toolbox (which must be downloaded), but you can not encrypt the drive so it requires a password to read the data. An optional encryption password would be beneficial so the data on the drive can't be read when the drive is installed into another computer.
If the performance wasn't enough reason to purchase this drive, the price should help. It can be found online for as low as $210 (US) at
Amazon.com
! That is less than $1/GB! For comparison, the 240GB version of the Intel 520 series drive used in this review can be found for $271 at
Amazon.com
, as well. So not only does the OCZ Vertex 4 outperform the Intel drive in most tests, it is also cheaper and provides a little more storage space.
Given the fast read/write speeds, 5 year warranty, and low cost, the OCZ Technology Vertex 4 256GB solid state drive earns the Bigbruin.com "Highly Recommended" and "Good Value" awards.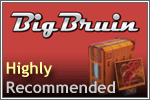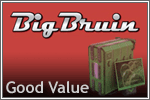 Pros:
» High performance
» Low cost
» Designed for reliability
» 5 year warranty
Cons:
» AES encryption not user manageable
Please drop by the Bigbruin.com Forum and feel free to post any
comments or questions
.