Configuration:
The following system was used to evaluate the
Crucial
Ballistix Elite 8GB memory kit.
» Intel Core i5 2500K LGA 1155 Quad Core @ 3.7Ghz (OC to 4.7Ghz w/1.38v)
» ASUS P8Z68 Deluxe Motherboard (Rev 1.0) w/0902 BIOS
» Cooler Master Hyper TX3 Heatpipe CPU Cooler
» OS Disk: OCZ Agility II 2.5" 60GB SATA II 3Gbps
» Storage Disk: Seagate Barracuda 7200.12 1TB hard drive SATA 3Gbps
» 2x nVIDIA GeForce GTX 460 graphics cards (SLI)
» OCZ 750W Fatal1ty Modular Power Supply
» Antec Nine Hundred Ultimate Gamer Case
» Windows 7 Ultimate 64-Bit operating system w/latest Windows Updates


For comparison purposes, the Crucial Ballistix 8GB 1600MHz DDR3 memory kit was tested against a very similar G.SKILL Ripjaws memory kit. See specs below. The modules used in this testing were unable to boot at DDR3-1866MHz speeds, regardless of voltage increases or relaxed timings. Retail cost of the reference memory is approximately $57 shipped.
G.SKILL Ripjaws X Series Memory specifications:
» 2x4GB (8GB)
» PC3-12800 DDR3-1600
» 8-8-8-24, 1.5V
At first boot (with XMP turned off), the Crucial Ballistix Elite memory booted to a speed of 1600MHz and 8-8-8-24-2 timings. Once XMP Profile #1 was active, the memory correctly adjusted the timings to 8-8-8-24.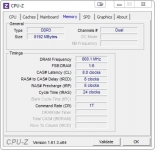 Overclocking:
Overclocking potential of the Crucial Ballistix Elite 8GB Memory Kit was established by pushing the RAM voltage to 1.65v (the generally accepted "ceiling" for the Sandybridge architecture). At 1.65v the Ballistix Elite memory successfully booted and ran stable at 1866MHz. Stability was verified by running MemTest86 on a continuous loop for 12 hours. Attempting for higher speeds, even with higher timings (example: 9-9-9-27) unfortunately resulted in reboots before the BIOS even completed the POST sequence. These modules certainly have some headroom, something that cannot be said for the G.SKILL Ripjaws Series 8GB memory kit, which wouldn't boot at 1866MHz, even with relaxed timings and 1.65v.