In Use:
The Seagate Backup Plus drive was connected to a Windows 7 based system with a native USB 3.0 connection. Once it spun up, Windows asked what I would like to do and I decided to view the files on the drive.
This image
shows the files/folders found on the drive when it is fresh from the box. You have installation software, drivers, and even some videos related to the drive. Since I am familiar with Seagate's Dashboard, and already have a decent backup plan in place, I didn't proceed with the installation of any of this software. Eventually I do intend to do so to try out the Facebook backup, but at this point I am mostly interested in the drive's performance.
The image in this link
shows what CrystalDiskInfo 3.10.0 has to say about the drive. As expected, the hard drive inside isn't the most exciting unit with a 5400RPM spindle speed and 8MB of cache memory.
Testing:
With USB 3.0 drives, the key to me is just how much of that potential speed do they take advantage of. While some people just want them to be faster than a USB 2.0 drive, I look for performance at or above the 100MB/s mark. I previously mentioned that the Seagate GoFlex Slim is my favorite portable drive given its size, but it is equally impressive for its high performance. We'll pit the BackUp Plus 1TB drive against a 320GB GoFlex Slim and a 250GB SATA II drive from Western Digital housed in a Kingwin brand USB 3.0 enclosure. We'll run through a pair of benchmarks, each of which provide a variety of results for comparison purposes.
CrystalDiskMark 3.0.1 x64:
This benchmark provides results to detail the read and write performance of the drive in question. Units of measure are MB/s, and higher values are always better. First up are the sequential read results, where we see that the Backup Plus can hang with its high performance sibling, while blowing away the DIY kit featuring the WD drive in a Kingwin enclosure.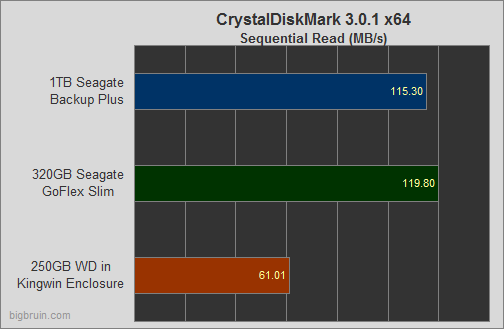 The sequential write results are similar, with the Backup Plus drive coming within a few MB/s of the GoFlex Slim... Both of which are sfaely above my 100MB/s threshold.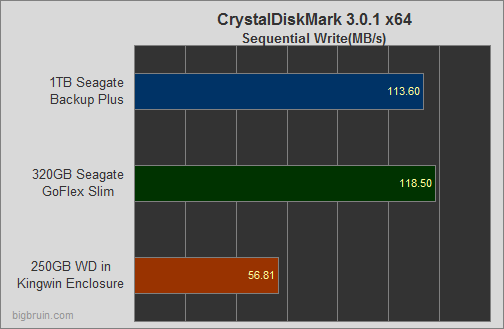 With 512K reads, the basic trend continues, though the total values have decreased greatly. Never the less, the results for the two Seagate drives are still impressive.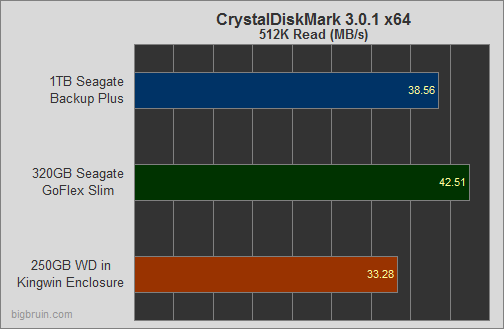 The 512K write results are in the last chart for this section, and provide the Backup Plus its one and only victory in our benchmarks.