Conclusion:
The
ZOOZ
ZSE18 Z-Wave Plus motion sensor with magnetic base is an excellent choice for anyone looking to add a motion sensor to their Z-Wave powered home automation system. It is compatible with a handful of hubs, and I found that it works very well with SmartThings. Whether you want to use it as a security device, or merely to make your life more convenient by turning on lights as you pass by in the dark, it will work very well.


For SmartThings, the configuration took more steps than many devices, and logging in to the web based Groovy IDE was necessary. Some users may not be familiar with this, or may be apprehensive about diving in to that interface, but a few minutes in there will help make the device work exactly as you want. And once you get comfortable with the Groovy IDE you will realize all of the other things you can do with your SmartThing's devices. That said, it should become better supported out of the box with SmartThings as they catch up on integrations which are now apparently taking several months due to other priorities (like moving to the new platform).
Available from
The Smartest House for $22.95
, this is their lowest priced motion sensor, and a very good value. It is several dollars less than the other motion sensors I also own (all Go Control brand), while also being more compact, more configurable, easier to install, and able to run off battery or USB supplied power (which will also let it function as a Z-Wave repeater).
In the end, the ZSE18 Z-Wave Plus motion sensor with magnetic base earns the Bigbruin.com "Good Value" and "Recommended" awards for how little you have to spend to get such a useful motion sensor.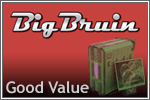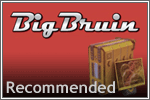 Pros:
» Responsive motion detection
» Physical installation is very easy
» Magnetic base is a very nice feature
» Adjustable motion sensitivity
» Attractively priced
» Battery or USB powered - works as a Z-Wave repeater when USB powered
Cons:
» Configuration with SmartThings takes numerous steps to get all features setup - this should improve with time
» Slightly larger box would keep the sensor's dome from pressing into the lid and possibly getting damaged
Please drop by the Bigbruin.com Forum and feel free to post any
comments or questions
.