Conclusion:
The
ZOOZ
Z-Wave Plus Indoor Siren ZSE01 is a great choice for those looking to add a siren to the their smart home ecosystem. It is fairly easy to connect, has a variety of mounting options, and functions just as you would expect. The handful of things that really drew me to it are the fact that it is AC powered with battery backup, features the benefits of Z-Wave Plus, and when plugged in to AC power it will function as a Z-Wave repeater.
I have only had it installed for a weeks so far, but I am very pleased with its performance with SmartThings. In addition to SmartThings, it is compatible with a handful of other Z-Wave controllers, so check the official list to see if it works with your system.
While not an advertised feature, I did experiment with using it as a chime, but unfortunately that did not work out. It would be nice if you could use it as an alarm, and then perhaps configure a different tone/volume to use it as a chime, but that does not seem to be supported.


Purchasing the ZOOZ ZSE01 in the USA means you should visit
Amazon.com
or
The Smartest House
, where the price is $25.95 (shipped free with Prime) and $31.95 (plus shipping) respectively. It was interesting to me that the prices were so different considering that The Smartest House is the seller on Amazon, so they are basically undercutting their direct sales and providing free shipping at Amazon. At $25.95, the ZSE01 is very competitively priced with other Z-Wave sirens, and definitely worth considering.
Considering the price, performance, and interesting features, the ZOOZ Z-Wave Plus Indoor Siren ZSE01 earns the Bigbruin.com "Recommended" and "Good Value" awards.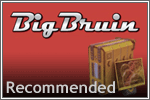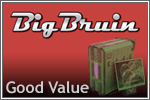 Pros:
» Loud enough for typical indoor use
» AC powered via USB connection with AAA battery backup
» Functions as a Z-Wave repeater when plugged in to AC power
» Variety of mounting options
» Relatively inexpensive
Cons:
» Blue LED indicator is always on
» Flashing red alarm lighting is not particularly bright
Please drop by the Bigbruin.com Forum and feel free to post any
comments or questions
.