Conclusion:
The
ZOOZ
Zen26 switch works as well as you could expect and whether I am triggering the lights from the smart switch, from the 3 dumb switches on the circuit, or from the SmartThings app everything works exactly as expected. The ceiling lights can be turned on and off reliably, the blue LED on the Zen26 always changes state properly, and the app is quick to indicate the change in state. I couldn't ask for anything more, and I am very pleased with this switch. Considering I only needed to replace one switch versus four, only spent about 10 minutes versus about 40 on the installation, and only spent about $35 versus about $95, I am even more pleased.
The Zen26 switch paired easily with SmartThings and overall the installation was very quick and trouble-free. Based on my experience with the Zen26 I am definitely adding their other switches to my short list for future projects, such as the Zen27 which is the dimming version on the Zen26.


As mentioned, I sensed that the build quality of the Zen26 wasn't as high as other switches I have used, but now that it has been installed for about a month I am confident that this will not be something to worry about. While handling it I felt I had to be a bit careful, but now that it is in the wall it feels good and looks good.
In the end, the
ZOOZ
Zen26 Z-Wave Plus S2 simple 3-way and 4-way switch earns the Bigbruin.com "Highly Recommended" and "Good Value" awards for making the upgrade of a 4-way circuit so easy and cost effective.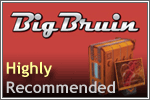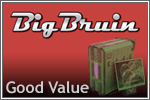 Pros:
» Paired easily and works very well with SmartThings
» Competitively priced against other Z-Wave switches
» Save big bucks versus traditional 3 or 4-Way Z-wave switches that require auxiliary switches
» Installation will save you a good deal of time versus having to add auxiliary switches
Cons:
» Construction doesn't feel as high quality as all the GE/Jasco switches I have installed
Please drop by the Bigbruin.com Forum and feel free to post any
comments or questions
.