Conclusion:
On a recent family trip across the country, the kids each had a tablet to keep them occupied. Every night, when we'd stop it would be time to load new videos to the tablets. The Seagate Wireless Plus would have saved time and headaches allowing all the videos to be loaded to it and letting the kids stream what they wanted to watch. In addition, as they would use the tablets to take pictures I wouldn't have to back-up those pictures, they could do it themselves with the Wireless Plus.
While it states it has a range of approximately 150 feet, this would be under optimum conditions. In the house, I was able to go about 50 feet before I would lose connection. This is also through about 5 walls, which will reduce the range of any wireless device, including Wi-Fi. For mobile use, the range should be plenty. In addition, I was able to get around 5 hours of streaming video time or 8 hours of streaming music time before the battery needed recharging.


The only item of concern is regarding the Android app, as it should allow accessing SD cards as that is a very common feature on Android devices.
The Seagate Wireless Plus retails for $199, and is currently available online at
Amazon.com
for about that much. When compared to a traditional USB 3.0 1TB drive, you are paying double the price. However, what you would be missing is the Wireless access for your mobile devices, which is obviously the leading feature of the Wireless Plus. Similar drives offering between 320GB and 500GB cost around $149. So for an additional $50, you are more than doubling the drive space. This makes the $199 price tag well worth it.
Finally, the Seagate Wireless Plus 1TB wireless hard drive earns the Bigbruin.com "Highly Recommended" and "Great Idea" awards for the features and performance of the drive.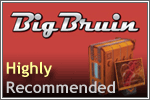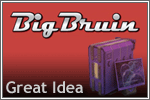 Pros:
» Wireless data storage
» Read and write to drive from smartphone or tablet
» Easily portable
» Connect to all types of IOS, Android, and Windows devices
» GoFlex connection upgradable
» Respectable battery life
Cons:
» Android app feels incomplete
» Web browser connection forces videos to download instead of streaming
Please drop by the Bigbruin.com Forum and feel free to post any
comments or questions
.