Setup:
Seagate
has made the Wireless Plus drive extremely easy to use. After a few simple steps you will be ready to connect from your devices. After turning on the Wireless Plus and then giving it a few minutes, the connection LED turns solid blue indicating it is ready for connections. Make sure to give it plenty of time, it will turn solid for a minute, and then start blinking again. On the tablet or smartphone, connecting to the "Seagate Wireless 3RZ" hotspot is done with the click of a button.


As the features state, there is an app to connect to the Seagate Wireless Plus for Android and IOS. I did not see an app specific to Windows 8 devices, which would be a nice feature to have available. However, any device that can connect to a WIFI hotspot can connect to the Wireless Plus and use it. Without an app, once you are connected you need to open a browser and go to 172.25.0.1 and use the software pre-loaded on the Wireless Plus. You can also connect to the Wireless Plus through DLNA devices such as Smart TVs, game consoles, media players, and Blu-ray players.
While the main feature of the drive is the wireless capabilities, it can use various GoFlex adapters for USB 3.0, Firewire or Thunderbolt connectivity. As the package includes the USB 3.0 adapter, I have attached it for some benchmarks, and to use it to transfer videos from the main desktop system. As the picture shows, the USB 3.0 adapter looks like it is part of the Wireless Plus drive when it is plugged in.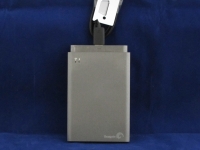 Using the USB 3.0 connection is the fastest way to transfer files to the Wireless Plus, unless you purchase the optional Thunderbolt GoFlex adapter. However, the USB 3.0 connection is not the fastest charging method, this is reported as taking around 9 hours to complete, while the included AC adapter takes around 3 hours.