The Basics:
We'll start this section of the review with the most important picture... A side-by-side comparison with an iPod Touch (64GB third generation). Physically they just look like they were meant to be together! The Wi-Drive is about the same width and thickness, while just slightly taller. The Wi-Drive has far less going on inside, so it does weigh less than the iPod Touch.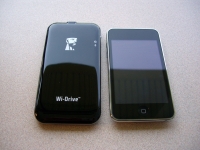 The next two images take a look at the face of the Wi-Drive, where we find the Kingston mascot, the Wi-Drive logo, and two smaller icons we'll look at more closely in the next image.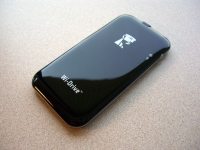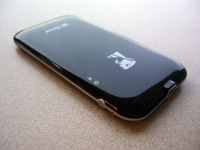 The next image shows a close up of the business end of the Wi-Drive. We have the USB connection for charging and data transfers, a small button on the edge which is for powering up the device and initiating the Wi-Fi, as well as the two small icons.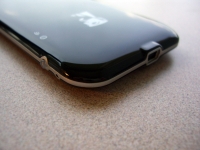 While you can not see the LEDs in this view, the small Wi-Fi icon and globe icon have blue LEDs next to them that indicate the status of the Wi-Drive. You can tell whether the device is connected and actively transferring data by checking for these blue lights. The only other light found on the device is a subtle green glow from the power button. In well lit areas, I found it hard to see if the device was actually powered on, so perhaps a bit more light there would be helpful.


The final image in this section shows the back of the device. Nothing too exciting here, unless you're in to long alphanumeric strings or regulatory approvals.