In this review we will be looking at the
Apotop
Wi-Copy (DW21) which is touted as being a personal cloud storage device and wireless router, perhaps a bit like the Kingston Mobilelite Wireless series we have covered a few times. For those who are not familiar with them, Apotop is a brand of Carry Technology Company Limited that was founded with the mission to develop innovative storage and portable wireless products to enhance productivity of mobile devices. In addition to the Wi-Copy, Apotop also manufactures SSDs, memory cards, USB flash drives, DDR3 memory, and a variety of mobile accessories.


The promotional image above shows off the Wi-Copy, which we will cover in more detail shortly. Before taking a look at the sample provided for review, let's take a look at some of the device's key features and specifications...
Features and Specifications:
» Wireless Speed: Up to 150Mbps
» Standards: IEEE 802.11 b/g/n
» Wireless modes: Router and Repeater
» Battery: 5200mAh Li-Polymer Rechargeable Battery
» Security: WEP, WPA/WPA2, WPA-Mixed encryption
» Network Protocol for File Server: SAMBA/FTP/HTTP/DLNA
» File system Support: FAT16; FAT32; exFAT; NTFS
» SD Standard Support: SD, SDHC, SDXC
» Wireless Storage Read/Write Performance: 9.05/6.65MB per sec (40MHz)
» Available Ports: USB 2.0; SDHC/SDXC card slot; Ethernet RJ-45 10/100Mbps; Micro-USB for charging
» Dimensions: 3.5" x 2.9" x 0.9" (L x W x H)
» Weight: 6.17 ounces
» Warranty: 1 Year, limited
Reading over the specifications it appears as if the Apotop Wi-Copy is very similar in it's capabilities to the
Kingston MobileLite Wireless G2
. Below is a chart comparing both devices; the entries in
bold
are where one exceeds the other.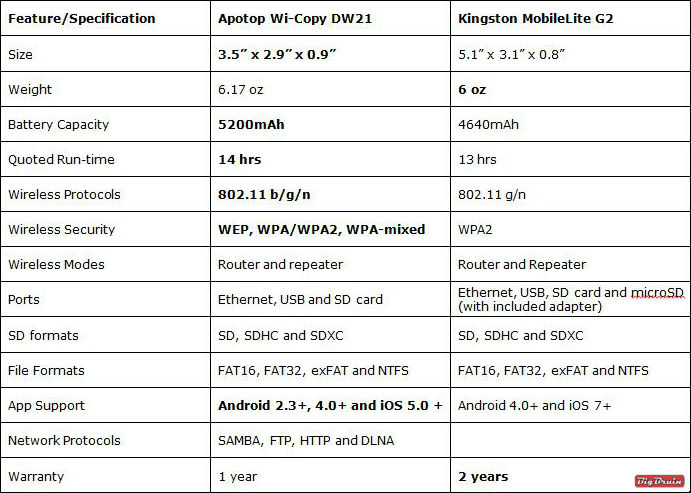 Based on the specs above it appears as if the Wi-Copy is a worthy adversary for the Kingston, but let's see if this is fact or fiction.