Photos:
If you select the Photo tab you will have several ways to access your pictures. If you have Media Library enabled you will be able to sort and filter the content by hitting the green button on the remote. Filtering allows you to filter based on all, date, date (year), date (month), folders, new items and favorites. The sorting function allows you to select based on file name, date, ratings and recently viewed items.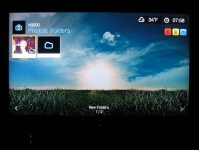 If you select the red button you can choose a specific source for your content, like local or network storage, media server etc. This will allow you to drill down through folders to just the folder or picture you want. The yellow button will allow you to change the views between grid and list.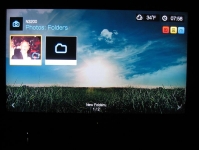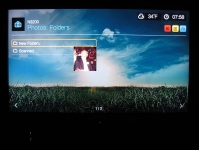 Once you have made your selection, you have several more options by hitting the Options key on the remote. There you will be able to add to queue, mark as favorite, rate, move, copy or delete a file, upload to Facebook or Picasa, set as background etc. You can also choose to start a slideshow by hitting the Play button on the remote.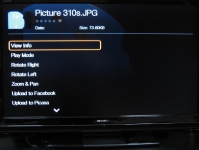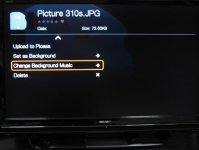 You also have the ability to hook up your digital camera directly to a USB port and access the pictures by selecting local storage. Not only is this incredibly convenient to quickly create a slideshow of recently taken pictures, but the WD TV Live allows you to easily copy these pictures to another device like an NAS. Not only can you select individual files, but it allows you to pick multiple files or entire folders. I did find the interface speed to be a lot slower than connecting to the NAS but to be fair I did use an older camera so this could be the slow down. For instance in Grid mode it took more time to display the preview pictures. This delay was not noticed when using a flash drive in the same port.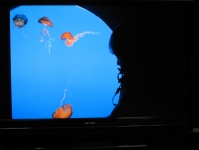 I don't think the picture resolution looked as good as when displayed off a laptop driving the same display with the same source. They still looked very good but not quite as sharp. Overall I think the easy of operation means it will get used more often than the laptop that is also attached to the TV.