Packaging:
As expected,
Western Digital
is a quality company and it shows in the packaging for the WD TV Live media player. No generic packaging here and the pictures and text all provide a clear description of what the device is capable of. As you can see in the pictures below, the front and back of the box clearly covers the products contents and capabilities.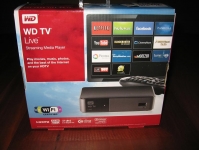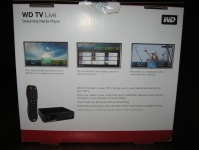 The slim sides of the box don't go to waste either, providing more details on things like file format compatibility and what exactly is included in the box.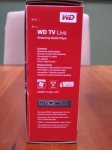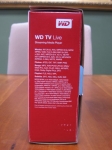 Inside the box we find everything is secured and well protected. Immediately at the top is the media player itself with the composite cable stowed below. On the other cardboard tabs you notice drawings of the parts you can find inside. All items were further packaged in some sort of plastic to keep them clean and dust free.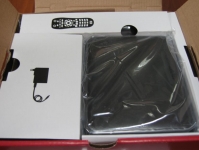 The package does not include an HDMI cable, but does include a composite cable. In a previous review of the
Western Digital WDAVN00BN
, the reviewer mentioned they would prefer to have received an HDMI cable. In this case the composite cable is much appreciated as this device does not have the standard yellow, red, white RCA connections - but rather has an 1/8" headphone style jack as can be seen in pictures in the next section of the review. Some may question why WD continues to offer a composite output on a 1080P capable player, but given this device's size (just 1.2" high x 4.9" wide and 3.9" deep) it is extremely portable. And given its versatility I could see families taking this on trips to ensure the little ones remain occupied.