Testing:
A handful of tests were conducted on the
Western Digital
RE2 750GB Enterprise hard drive using a system with the following key components:
» Intel i7 920 quad core processor
» Gigabyte GA-EX58-UD3R LGA 1366 X58 ATX motherboard
» Sapphire Toxic Radeon HD4870 512MB video card
» G.Skill 6GB PC3-12800 1600MHz DDR3 triple channel memory
» Nesteq EECS 700 Watt power supply
» Windows 7 RC1 64-Bit operating system
For comparison purposes, the following drives were compared head-to-head with the Western Digital RE2 750GB Enterprise hard drive. Each drive was freshly formatted with one partition equal to the maximum capacity of the drive.
» Seagate Barracuda 7200.10 750GB SATA hard drive [
review
]
» Western Digital Caviar SE16 WD7500AAKS 750GB SATA hard drive [
review
]
» Western Digital Caviar Green 2TB hard drive [
review
]
And the following list details the tests to be executed on all drives:
» HD Tune Pro 3.50
» CrystalDiskMark 2.2
» SiSoft Sandra 2009.5.15.97
» Thermal Testing
» Power Consumption Testing
HD Tune Pro 3.50:
HD Tune
was the first test executed. This benchmark application allows for a quick and easy assessment of the performance of just about any hard drive. The chart below provides the details for this collection of drives. Higher results are better for burst speeds and read speeds, while lower scores are better for access time.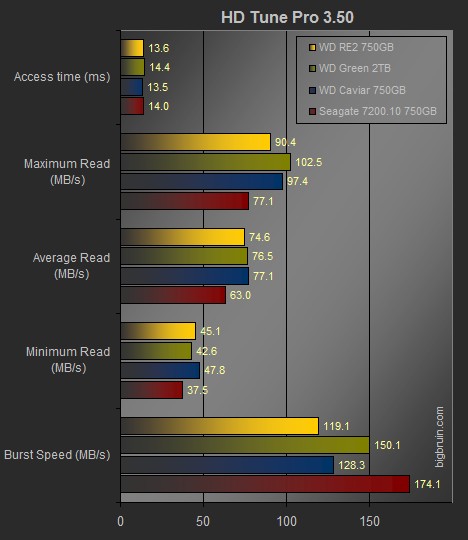 The WD RE2 drive may not put up the best numbers, but it is right up there with the other drives on hand. With the 1.5GB PHY jumper installed, the only value that change by a significant amount was the burst speed. It went from a slightly below average 119.1 MB/s down to a rather sad 89.9 MB/s. Be sure to remove the jumper from pins 5 and 6 if you have a 3Gbps SATA controller!