The last time we checked out a
Western Digital
product it was in a review of their latest and greatest, the
Caviar Green 2TB
SATA hard drive. While we don't have anything to one up that unit just yet, we do have another Western Digital product that may be of interest thanks to its capacity, performance, and perhaps above all else its price.
Geeks.com
carries an assortment of
internal hard drives
in a wide variety of prices, capacities, and conditions. The drive provided for this review is described as a "new pull" and offers the balance of the original 5-year warranty which they estimate as being three years.


The drive in question is a Western Digital RE2 enterprise class SATA 3Gbps drive which offers a capacity of 750GB, a spindle speed of 7200RPM, and 16MB cache memory. Before taking a closer look at the drive on hand, lets take a look at some of the features and specifications taken from the
product page
on the Geeks.com website.
Features and Specifications:
» Brand: Western Digital
» Model Number: WD7500AYYS
» Capacity: 750 GB
» Interface: Serial ATA
» Data Transfer Rate: SATA/300 (300 Gb/s)
» Spindle Speed: 7200 RPM
» Buffer: 16 MB
» Average Latency: 4.20 ms
» Average Seek Time (read): 8.9 ms
» Average Seek Time (write): 9.6 ms
» Form Factor: 3.5-inch
The drive is rated as "enterprise class", and according to Western Digital that means that "these drives are the perfect solution for servers, video surveillance, and other demanding write-intensive applications." The reliability and performance may not be directly targeted toward home users, but in addition to the 3-year warranty and
$63.99
price, there are more than enough reasons to consider them there anyway.
Packaging:
The review sample came packed in the completely undecorated cardboard box shown in the images below. The box folds shut for repeated use, and inside a healthy does of bubble wrap keeps the drive in place.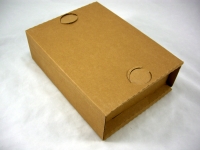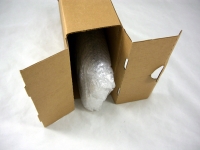 Inside the bubble wrap the drive was sealed in a plastic case, and everything shown was packed in to a larger cardboard box for shipping. Geeks.com has done its part to make sure the drive gets to you safely, even if it isn't treated gently along the way.