Conclusion:
The
Cooler Master
Notepal U Stand laptop cooler certainly does what it is designed to do - keep mobile computing devices cool and provide an ergonomic working environment while all wrapped up in a clean and functional design. The two adjustable / removable 100mm fans provide the cooling power and configuration flexibility necessary to meet just about any user's needs. The inclusion of a three port USB hub adds to the overall value of the unit.


There are three issues worth considering before purchasing this device. The key point is with the USB cable length, which may only be a problem if you have a larger device that does not have USB ports on the right side. With the 15" MacBook Pro used during testing, the USB cable barely reached from the left side of the notebook, to the USB port on the right side of the cooler. In addition, while we found the anti-slip holder height to work well with this notebook, owner's of ultra-slim devices may find them to be too tall. And finally, it would be nice to have the ability to control the fan speed via a dial or multi-position switch.
The U Stand is just hitting the market, so precise pricing is not yet available, but Cooler Master is promoting an MSRP of $49.99 (US). This is on the high side for laptop coolers, and hopefully retail pricing will be a bit lower. That said, the U Stand is extremely well built and offers greater flexibility (in terms of cooling and ergonomics), so it should be worth more than your typical cooler.
All things considered, the Cooler Master Notepal U Stand laptop cooler earns the Bigbruin.com "Highly Recommended" and "Whisper Quiet" awards.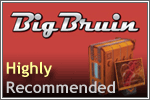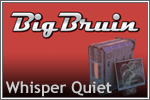 Pros:
» Sturdy aluminum construction
» Provides effective cooling to the key heat generating components
» Two removable and adjustable fans
» Fans produce just about zero noise
» Adjustable to five comfortable positions
Cons:
» Short USB cable may be an issue with larger devices.
» Anti-slip holders may be too tall for some users.
» No fan speed control
Please drop by the Bigbruin.com Forum and feel free to post any
comments or questions
.