Testing:
In order to test the
Cooler Master
Notepal U Stand, I used a 15" MacBook Pro running Windows 7 Professional under Apple's Boot Camp. To record the temperatures,
CPUID's Hardware Monitor
version 1.18 was used. For each idle reading, the laptop was allowed to sit powered off for one hour. After booting, the system was allowed to sit idle for 10 minutes and a base reading was taken. After that time, Futuremark's 3DMark Vantage was executed on a loop for one hour and the maximum temperatures were recorded.
The first set of images depict the laptop sitting on a wooden desk, on top of our Notepal U Stand without the fans installed, and with both 100mm fans installed and operational. Just by letting the air flow around the bottom of the computer without any additional cooling assistance the temperatures dropped a few degrees - with the exception of the hard drive temperatures. Turning on the fans seemed to make no real noticeable difference.
CPU (idle):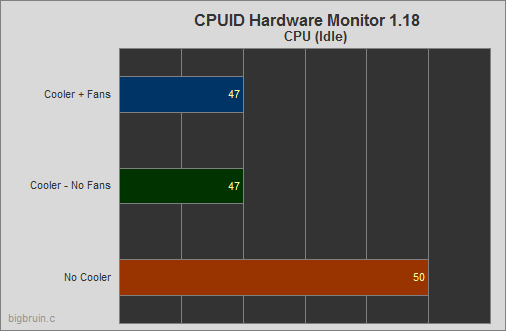 GPU (idle):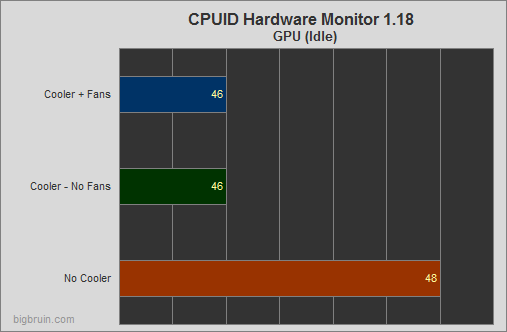 Hard Disk (idle):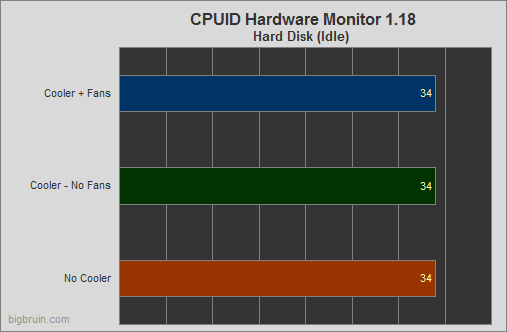 Northbridge (idle):