The Basics:
The Cooler Master Notepal U Stand is a fairly large unit - enough to accommodate a 17" laptop. The working part of the cooler is made out of solid piece of black aluminum that has hundreds of large perforations capable of allowing air to flow around the bottom of a laptop or tablet.


The only "bling" on this thing is the Cooler Master logo at the very bottom of the unit and the grey rubber strip, which snaps into the perforations making it completely adjustable to fit whatever size device you have.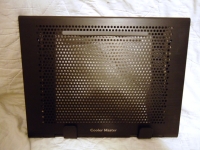 From the side view, you can see the two anti-slip holders. The holders are constructed from plastic but have a rubberized anti-slip insert which will hold your computer snugly during use and also prevent it from getting scratched.
Flipping up the cooling deck reveals the adjustment bracket and the slots which allow for the the Notepal U Stand's four of five possible positions. The lowest position is set by moving the bracket to its locked position at the rear of the base.