Packaging and Accessories:
The Notepal U Stand laptop cooler ships in the classic Cooler Master packaging, which uses a clean, bright design with a no non-sense approach. There is simply a large picture of the item, the Cooler Master logo, and the product name, which is all that is needed to grab the consumer's attention while it sits on the shelf.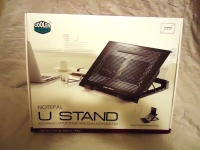 The back of the package has the usual feature list (in multiple languages), a few pictograms describing those features, a breakdown of the product specifications, and another large image of the product in simulated use.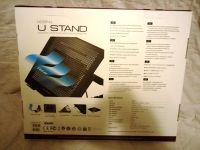 Opening the box reveals the cooler sandwiched between two dense foam inserts and wrapped in a protective bag. While some manufacturers ship their laptop coolers in cardboard, Cooler Master goes the extra mile with their packaging. The note on top of the cooler is in reference to the included fans - something we'll visit shortly.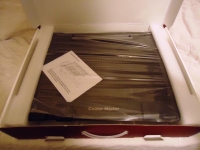 The included "accessories" are minimal, but then again, how many accessories do you really need with a laptop cooler? Inside the box, you'll find a Notepal U Stand User's Guide, the notice about fan positioning, and a minUSB to USB B cable for powering up the cooling fans.