Testing:
To test the performance of the
Thermaltake
V1 AX CPU cooler, we used
CPUID
's Hardware Monitor 1.1.4.0. Idle temperatures were taken after a 30 minute period with only Hardware Monitor running. For load temperatures, we ran a combination of Prime 95 (with all 8 instances),
SiSoft Sandra
Professional's Burn-In Test, and FutureMark 3DMark Vantage. All readings were noted and the average of the 4 core readings was charted. Since the V1 AX was the only cooler with a user adjustable fan, we ran the test on both low (1300 rpm) and high (2000 rpm) speeds.


For comparison purposes, we ran the V1 AX against two other popular coolers:
» Scythe KATANA 3 CPU Cooler
» Stock Intel Cooler
All three coolers were used in conjunction with Arctic Alumina Thermal Compound. The following chart shows the results.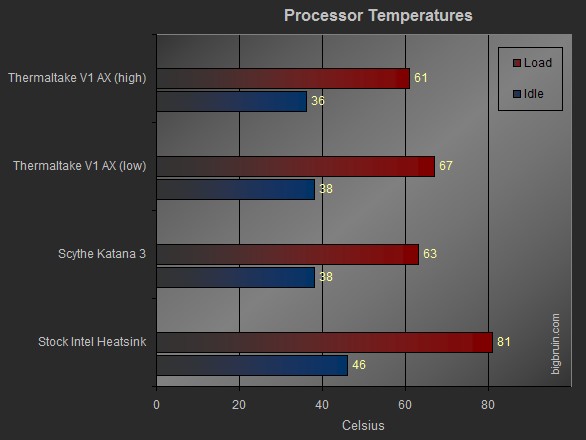 As we can see, the stock Intel cooler is no match for the two after-market coolers. While the cooler included with the processor may be adequate for most applications, it usually is the first component enthusiasts replace. With the fan set to its lowest setting, the V1 AX is remarkably quiet. In fact, I couldn't make it out over the fan on the video card. With the fan cranked up to its highest setting, the V1 AX edges out the Scythe cooler by a few degrees. While you can begin to hear the fan noise at this point, it is nowhere near deafening.
The other thing I noticed was that with the exhaust set to flow over the fanless Northbridge Heatsink, it remained cool to the touch throughout testing.