Testing (continued):
To see how the SpinQ VT performs on an overclocked CPU, the FSB was adjusted from 200MHz to 216MHz, which isn't a huge overclock, however that is the best I have been able to push the ECS A770M-A motherboard.


The same tests detailed on the previous page were repeated at the elevated clock speed. The first chart details the idle results, while the second chart details the load results.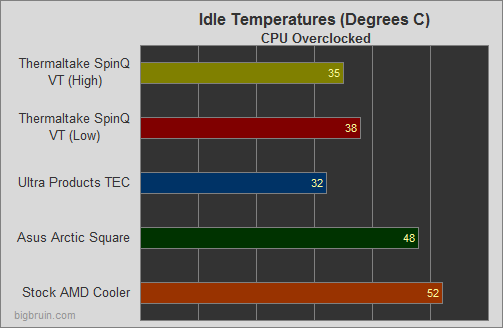 As the above chart shows, the SpinQ VT cools the CPU better than both the standard AMD cooler (17 degrees Celsius cooler), and the Asus Arctic Square (13 degrees Celsius cooler). However the Ultra TEC cools slightly better (3 degrees Celsius), which is to be expected due to the difference in technology (Peltier cooler vs Air).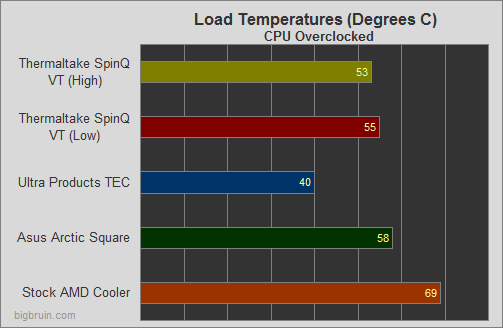 Under load conditions, the SpinQ VT still did better than the standard AMD cooler, the difference is about the same as the idle conditions (16 degrees Celsius), while the Arctic Square was 5 degrees Celsius warmer than the SpinQ VT. Once again, no cooler is able to outperform the Ultra TEC.