Configuration:
The Thermaltake SpinQ VT CPU cooler was mounted in a system with the following specifications for this review:
» AMD X2 6000 (3.0GHz) processor
» ECS A770M-A AM2+ motherboard
» eVGA nVidia GTX 275 PCIe Video card
» Seagate 500GB SATA 3Gbps hard drive
» BFG LS-550 550W 80Plus Power Supply
» Patriot Extreme Performance 4GB (4x1GB) DDR2 800MHz dual channel memory
» Thermaltake Xaser VI Full Tower
» Windows 7 Ultimate 64-bit operating system


Testing:
Testing involved monitoring idle and load temperatures with the CPU at stock speed, as well as while overclocked. CPUID's HWMonitor was used for monitoring the idle and load temperatures. Idle conditions were established with a 30 minute period with only HWMonitor running. For load conditions, a combination of SiSoft Sandra Professional's Burn-In Test and FutureMark's 3DMark Vantage were run for 30 minutes. Each test was done with a room temperature of 23 degrees Celsius. The air temperature inside the case averaged 28 degrees Celsius.
The Thermaltake SpinQ VT will be tested against several other coolers. The Asus Arctic Square is probably the closest in design, however it uses a more traditional 92mm fan instead of a blower fan. In addition, the SpinQ VT will be matched up against the stock AMD cooler, and the Ultra Products TEC cooler.
The first graph shows how the Thermaltake SpinQ VT stacked up against several other coolers at stock speed and under idle conditions. The Thermaltake SpinQ VT came close to the Ultra Products TEC cooler, however the Ultra Products TEC is a Thermoelectric cooler that is more advanced than the other coolers included here. The difference in temperatures between the SpinQ VT and the TEC was small, between 2 - 6 degrees depending on fan speed. Turning the fans on high, the SpinQ VT was able to narrow the temperature difference.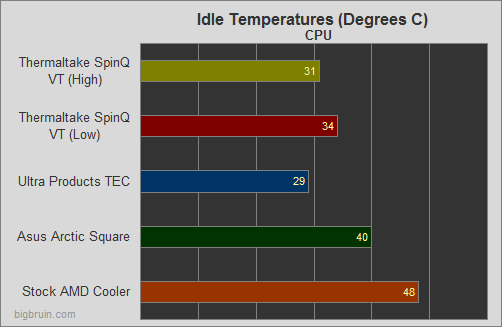 Next is the load temperature readings. The SpinQ VT performed rather well, beating the Asus Arctic Square by almost 10 degrees Celsius and the stock AMD cooler by over 20 degrees Celsius. The Ultra Products TEC still cools better.