The Basics:
Taking a closer look at the cooler, it is easy to see that the SpinQ VT is very similar to the original
SpinQ
cooler. One of the major differences is easily identified, and that would be that the SpinQ is mounted horizontally to the motherboard, where the SpinQ VT is vertical. Whether this difference changes the cooling potential I will not be able to test (I have no experience with the SpinQ). The biggest thing about the change in orientation is how it will look in your case.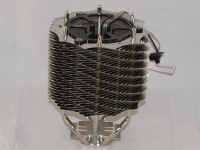 Like many other coolers these days (including the
Thermaltake Frio
for example), the SpinQ VT has a built-in fan controller. The SpinQ VT uses a three pin fan connector for power, which should allow it to work for virtually all motherboards.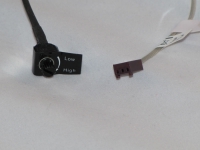 A top down view of the SpinQ VT shows that while the cooler is round, each layer of the cooler is really made up by an eleven pointed star pattern. Each layer is slightly rotated to give the SpinQ VT its unique shape. Inside the cooler resides a turbine style fan which will help to push out air in all directions while drawing in cool air at the ends.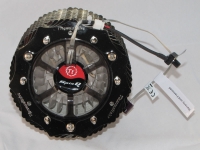 On the bottom of the cooler is the base which will eventually be placed on the CPU, and a good place to take a look at three heatpipes. The fan can be seen by looking up through the fins in this view, and it confirms the fan is almost the entire length of the cooler.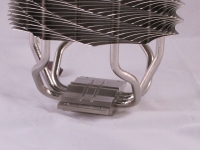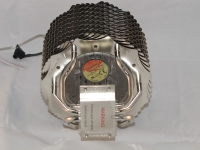 Taking a close look at the bottom of the cooler with the protective film removed reveals that there are no flaws in the finish. The base is smooth and flat, but it does not have a mirror finish. There were some marks in the cooler from where it was machined, which are not uncommon.