Conclusion:
Sometimes it's easy to offer a suggestion or two for changes to the next generation of a device. However, I'm finding it difficult to find anything I would offer up as a suggestion for the
Thermaltake
Max 5G. It supports the latest version of USB while being backwards compatible to previous generations, it provides active cooling with dual 80mm LED fans, it has an integrated support stand, and it has an easy way to turn off the fan's LEDs.


If I was to be totally picky, the only thing I can see missing on the Max 5G would be a "Kensington" style cable lock port. While not necessary, it would be nice to know that your drive and data were at least semi-secured with a cable.
The Thermaltake Max 5G has a
price tag
of between $45 and $60 at popular online retailers like Amazon.com and Newegg.com. At this price it is a little more expensive than other 3.5" hard drive enclosures out there, however the features of the Max 5G make the price difference worth it.
There are no reasons not to recommend the Thermaltake Max 5G hard drive enclosure. It has everything anybody could need in a hard drive enclosure for a single 3.5" hard drive, and it therefore earns the Bigbruin.com "Recommended" award. In addition it also earns the Bigbruin.com "Great Idea" award for the innovative hard drive installation mechanism and the silent dual fans which will help keep the hard drive cool and potentially extend its life.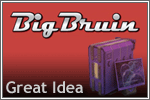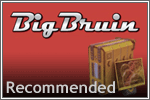 Pros:
» Active cooling
» Integrated support stand
» Tool-less method of securing hard drive
» USB 3.0 (backwards compatible to USB 2.0 and 1.1)
» Illuminated on/off switch
» Compatible with SATA I, II and III hard drives
» Silent fans
Cons:
» More expensive than your typical drive enclosure
Please drop by the Bigbruin.com Forum and feel free to post any
comments or questions
.